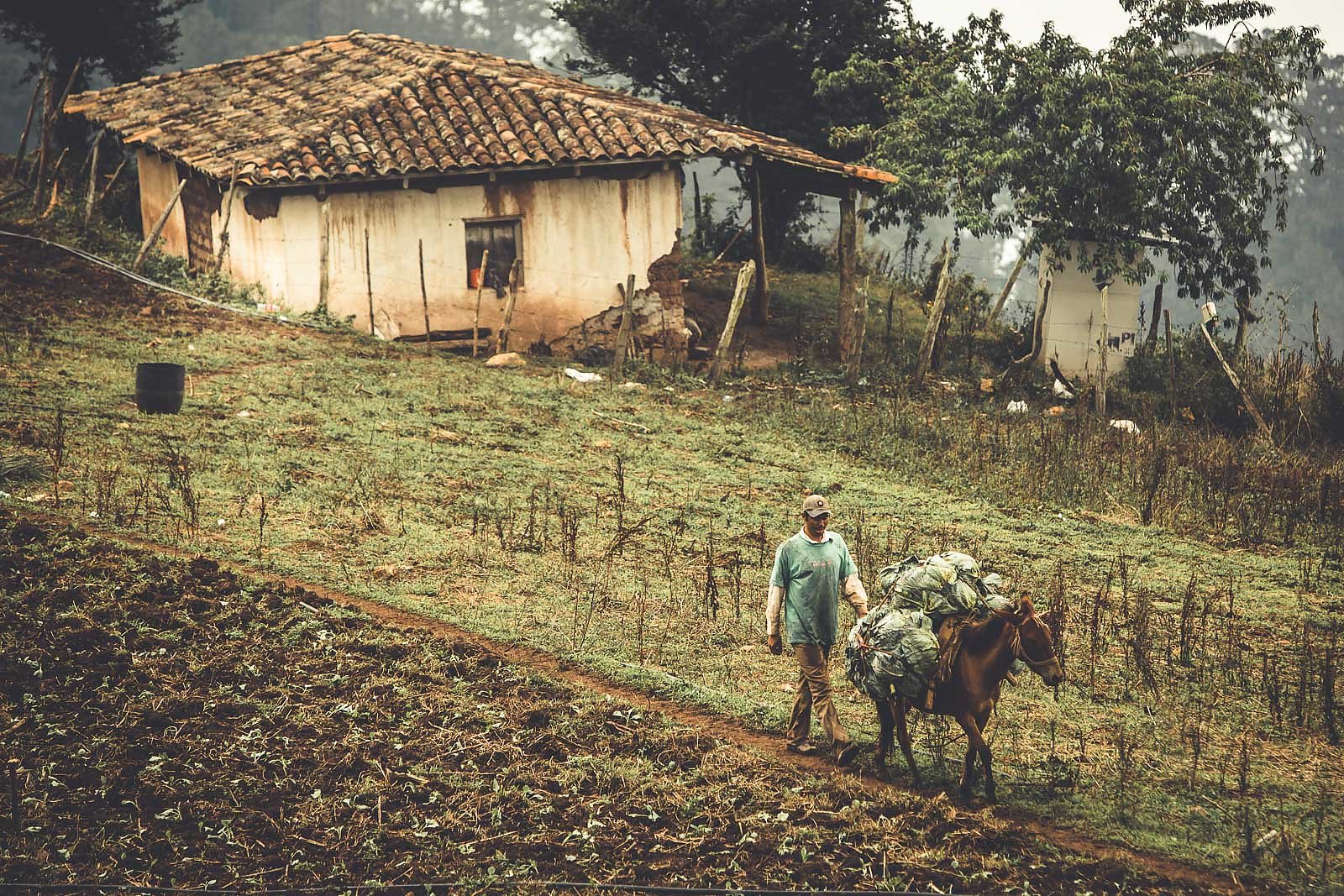 Faces of Honduras - Exploring Central America's North Shore
The sun is just burning over the craggy skyline as we start the shuttle up the steep, dusty two-track.
The small community straddling the red dirt road has been up and about long before we fired up the van. Giggling school children chase baby chickens between low buildings, their chore before heading off to class, and a farmer does his best to knock his horse unconscious for taking interest in a nearby mare. It's a scene befitting of the Honduras we've been journeying through the past four days—unapologetically gritty and hard-working, but still friendly enough to charm you.
In actuality, the trip up this dirt road began a few weeks ago with a grainy YouTube video. It was late fall in Whistler, BC, and I was escaping the early season snow and mud in the warmth of my living room, in front of a computer screen searching out sunny and exotic locales. Eventually, my trip down the YoutTube Hole led to a helmet-cam edit of a long downhill trail in Honduras named Los Elotes. Winding down a ridgeline peppered with berms, doubles and views that went forever, the shaky POV footage wouldn't get out of my head.
My searches for any information about mountain biking in the country turned up almost nothing. What I mostly found was warnings about the dangers of bike touring, about the high crime rate, dangerous gangs and child migrant crisis. I had gotten the same warnings traveling other Central American countries. This, however, was to an entirely different level—which made sense, since Tegucigalpa, Honduras's capital, has one of the highest murder rates in the world.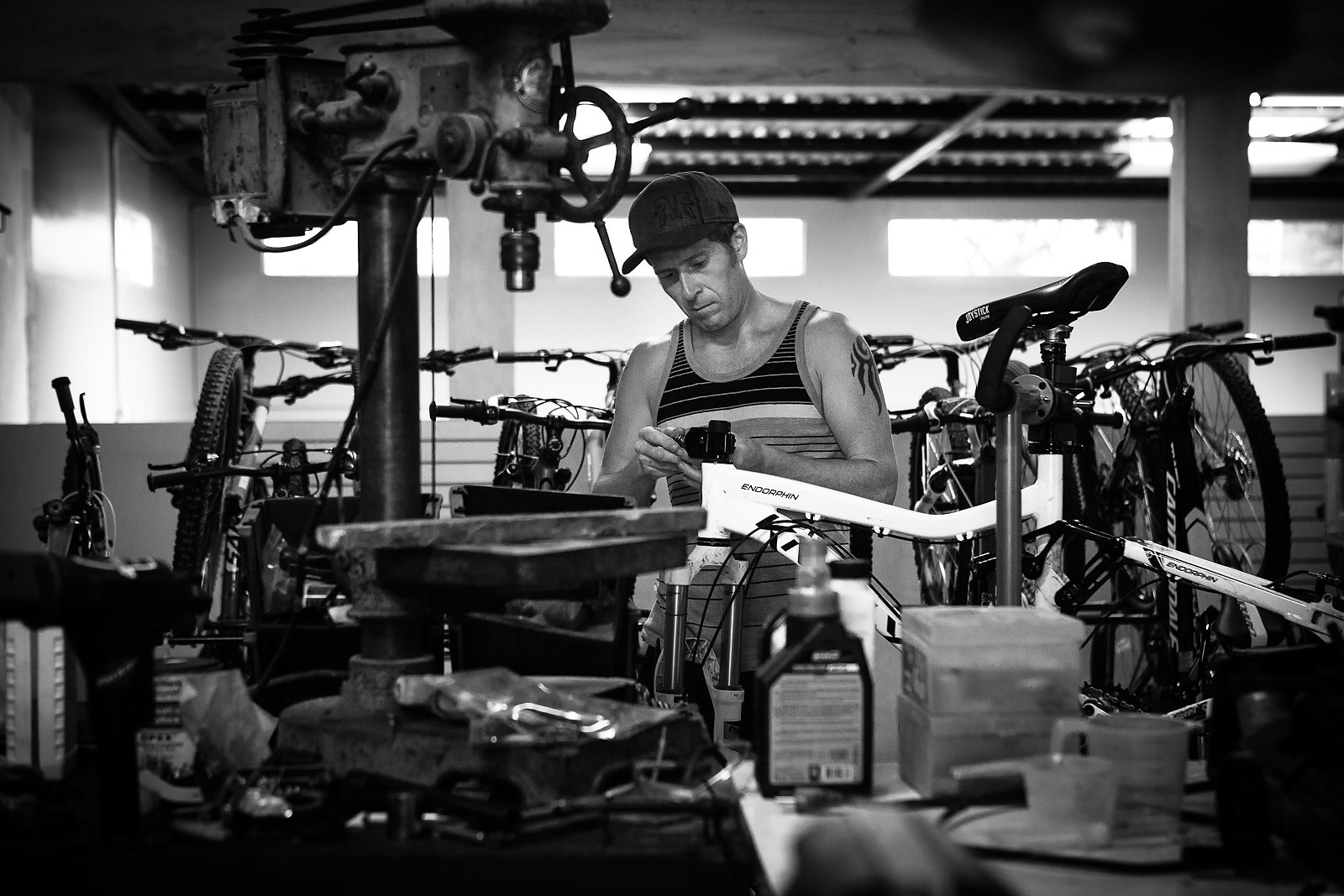 But even with all the warnings, there was still that rough POV footage. I watched it almost every day. Soon my YouTube searches turned to airline pricing, and eventually phone calls to some friends and then legitimate planning. And then we were boarding a plane to Honduras.
The way we had planned it, getting to Honduras from Vancouver International Airport required two flights and a shuttle—the flights to get to San Salvador, El Salvador and the shuttle to get to Tegucigalpa. Tegucigalpa, or "Tegus" to the locals, is our starting point for the trip. It is also home to Los Elotes, the trail from the video, and, from the small bits of info we were able to scrounge, is the mountain biking capital of Honduras.
Our group—photographer Justa Jeskova, filmmakers Mike Gamble and Michael Sousa, and athletes Denis Courchesne, Danny Martins and myself—meet early at Vancouver International, eager to escape to warmer climes. A transfer in Los Angeles and a few hours later we are in San Salvador, hailing a van to make the four-and-a-half-hour drive to Tegus.
Courtesy of one very grumpy shuttle driver, we pull into Tegus long past our scheduled arrival time and deep into the night. As many of us have been to Central America before, we are expecting the living bustle that tends to dominate the region's larger cities. Instead, we are shocked to find a brightly lit quiet, with a disproportionately large amount of chain restaurants and oversized neon signs—unexpected enough to be eerie. Nevertheless, we are excited to have arrived, and reserve our impressions for the daylight hours.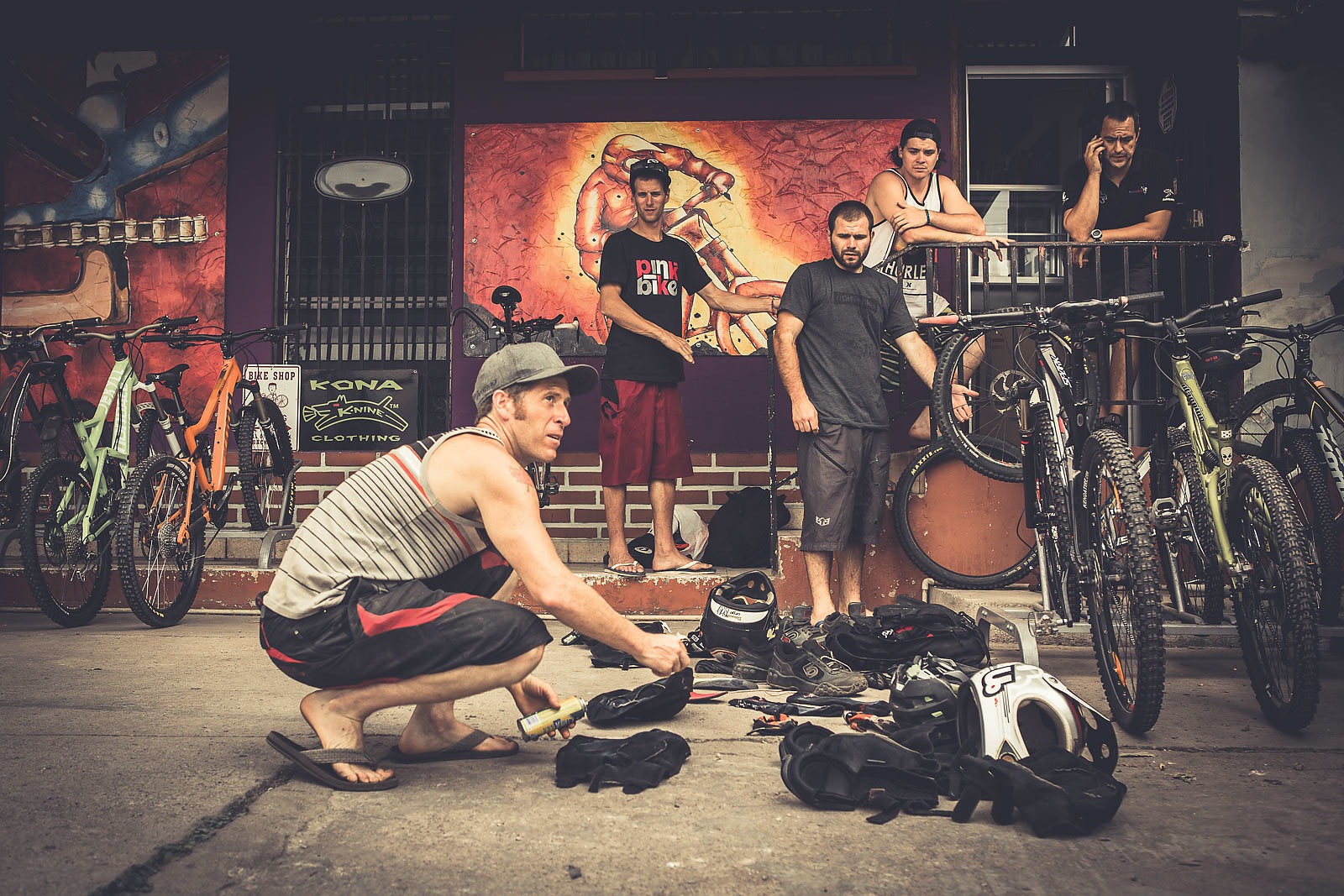 The next morning, Mario Mossi—our friendly guide and owner of Hondubikes—meets us at his shop downtown. We had contacted Mossi prior to our arrival with questions regarding the area's riding scene, and he had responded with unbridled generosity. We soon find this is his defining attribute, as he kindly insists that we stay with him for a night so we can build our bikes at the shop and get a day of riding on the local trails.
Tegus itself is perched along a low mountain range, with parts of the city reaching to nearly 5,000 feet. It's been the capital of Honduras since 1880, and as the country's largest city is home to both its major political workings and its most important university. It's also home to the country's main mountain biking scene and some of its most famous trails, including Los Elotes.
Despite the city's obvious size, we are still shocked to find the trailhead parking lot packed with riders, reminiscent of an average day on Vancouver's North Shore, and the sheer number of people climbing the access road is proof of a thriving bike scene. Gear ranges from the hottest technology to ultra-basic department store specials, but one thing is universally present—the enthusiastic grin on each rider's face. Mossi was the first to open a high-end bike shop in Honduras, and has played a huge role in pushing the local scene from fringe to legit. Many of these riders bought their bikes at Mossi's store, and he's introduced even more to the sport and lifestyle in general.
The semi-arid landscape surrounding us is a pleasnt surprise—it is the wet season in Honduras, but the long ridges reaching towards the sprawl of Tegucigalpa are only interrupted by the sparse sprouting of green from the season's first rains. Tegus sits quietly in the center, unassuming and dwarfed by the craggy slopes we stand upon. It leaves a far different impression than our arrival the night before.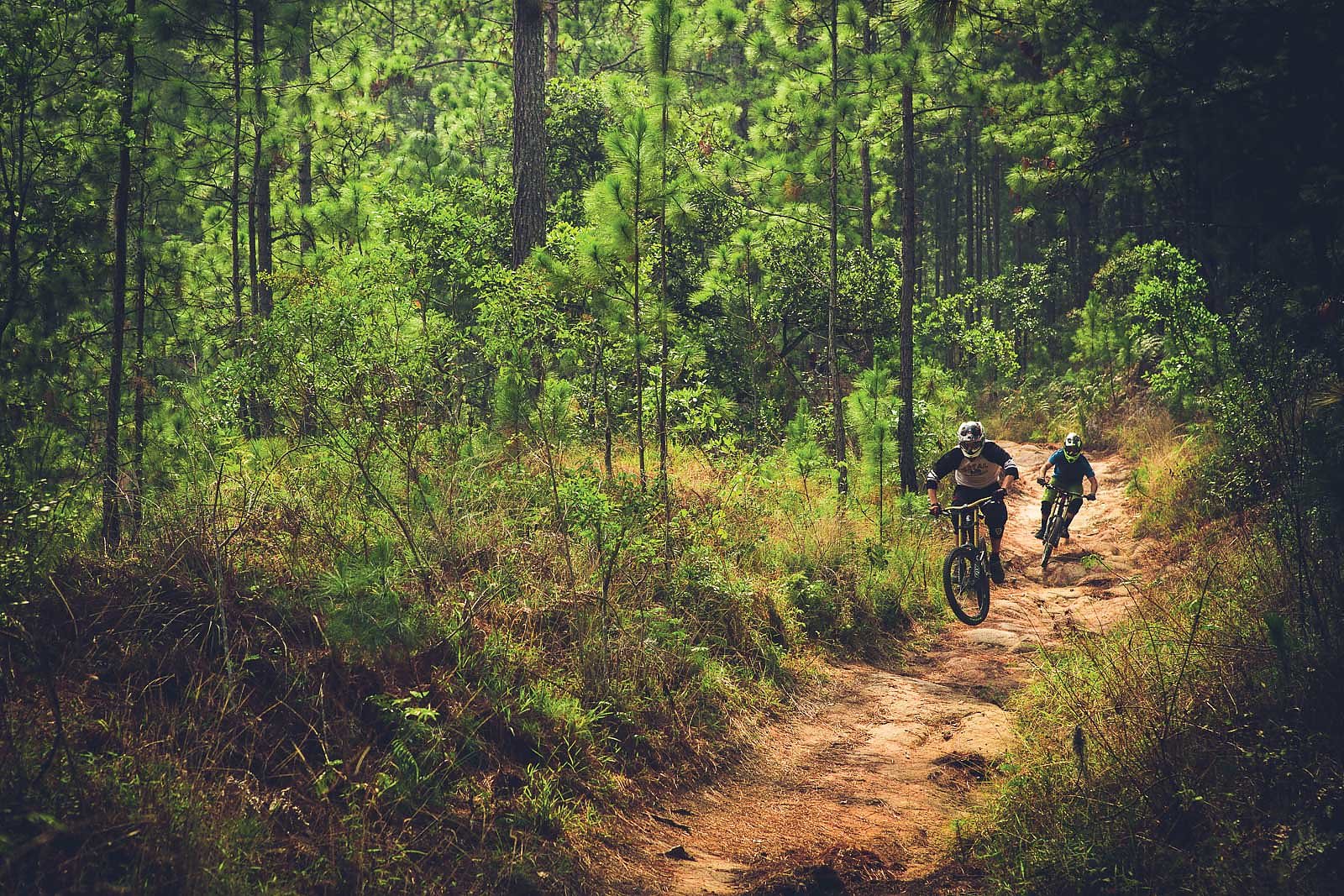 Riding in Honduras, apparently, wastes no time with warm ups. Almost immediately upon dropping, we find ourselves navigating some of the most technical riding any of us have ever ridden. Massive rocks and sharp edges, gaping holes and natural gaps—our only complaint is a trail that enjoyable should not be that short.
Our doubts spoken too soon, are whisked much higher up the mountain for "Kamikaze". The title is not derived from the famed California DH course; it's actually home of Tegus's annual mass-start DH race. After more than 10 minutes of ultra-rough, wide-open downhill—all while imagining being elbow-to-elbow with other racers—the name seems as fitting as it does the California course.
In the afternoon we make the 45-minute drive to Valle de Ángeles, an old mining town northeast of Tegus and a popular weekend getaway for Honduran tourists. It's known for its ethnic crafts, colonial architecture and more recently, Mossi informs us, its incredible riding. The town square is surrounded by bars, restaurants and cafes all shaded by large trees, a welcoming, laid-back atmosphere broken only be the large fleet of three-wheeled tuk-tuks and their maniacal operators.
Alongside multiple ecotourism operations, the municipality hosts three established trails and a myriad of wandering single track connecting the small farming communities that dot the surrounding valley. Valle's cobblestone streets seem worlds' and cultures away from Tegucigalpa.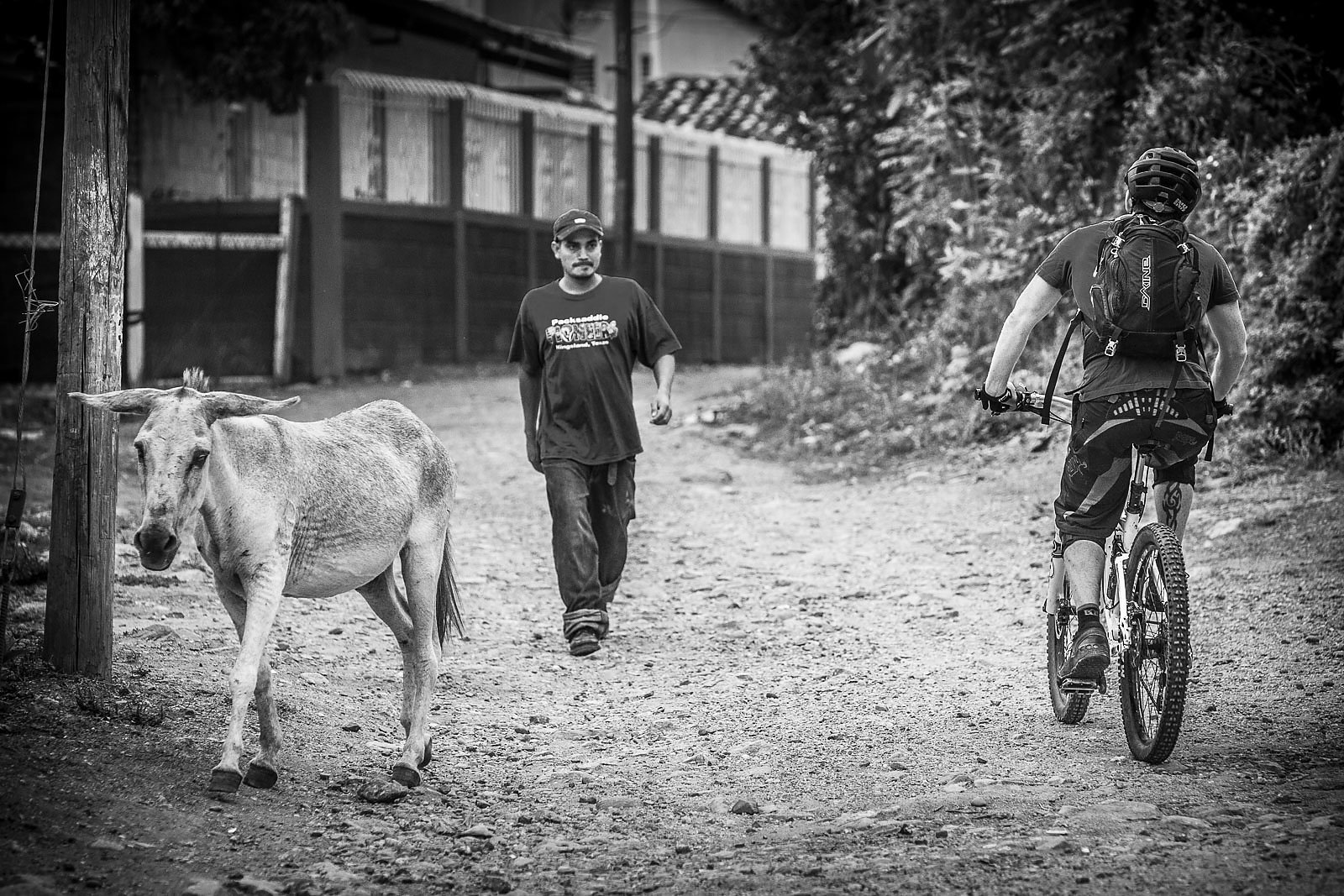 Naranjal is the longest descent in the valley, a monster sporting massive views of jungle and surrounding farm lands that starts just above Valle de Ángeles. Mossi and the Hondu crew lead us through a maze of tight, twisting trails that eventually open up onto steep fire road with off camber corners, morphing into a 3,000-foot technical rut-fest that eats away vertical more rapidly than one's nerves care for.
The trail dumps us out into the quaint farming village of El Naranjal, the trail's namesake. Much grittier than Valle de Ángeles, the village's center is a dilapidated playground bordered by rough, dirt roads, but kids still play on the rusty jungle gyms and kick soccer balls in the street. Almost none of the buildings have windows, but that only adds to the timeless character. What El Naranjal lacks in polish, it easily makes up with authentic Honduran soul.
It is a full day of hard riding, and we celebrate with baleadas, a traditional Honduran staple of handmade tortillas overflowing with eggs, chorizo, cheese, beans and salsa. Accompanied by a few rounds of brews, it is our first opportunity to get to know the Hondubikes crew and inquire more about the bike scene in Honduras.
Mossi and two employees from his shop, Eddy Parrales and Fernando Pineda, show us pictures from their phones of past races and rides, regaling us with tales of both existing trails and the country's untapped potential. Hondurans, we soon realize, are incredibly passionate about their riding—they follow mountain biking with the same zeal as soccer fans during the World Cup.
They also tell us about Los Elotes. From their description, it is everything we have hoped it'd be, the bike community's pride and joy and everyone's favorite downhill track. We decide to meet up again in two days, but this time we'll be joined by a local legend: John Paul "JP" Lloyd, the mastermind behind the trail that brought us here.
But until then, Mossi tells us we are far from being done exploring—Valle de Ángeles still holds plenty of secrets.
Even in the rainy season the Honduran midday sun can be hellishly punishing, and so we get up in the dark the next morning to take advantage of the cooler temperatures. The early wake up is rough, but it has unexpected benefits—we are also treated to the raw and loud daily life of a Central farming community. Even at this hour the deafening sound of music blares from speakers mounted outside of one house, and the town's mascot, a supposedly talking dog, is wide-awake and determined to make everyone aware of his presence. Add some crowing roosters and the harsh bray of some angry donkeys and it is the perfect soundtrack to kick off our exploration of El Naranjal's singletrack.
The miles of trails and footpaths don't disappoint, but the highlight of the morning are the huge smiles from the locals we run into on the way. Even though we are obvious foreigners, they introduce themselves at every encounter. One farmer out collecting firewood with his mule and two dogs even stops to ask how we are enjoying ourselves and other such pleasantries. We stumble along in broken Spanish, but no one cares—they are just excited we're here.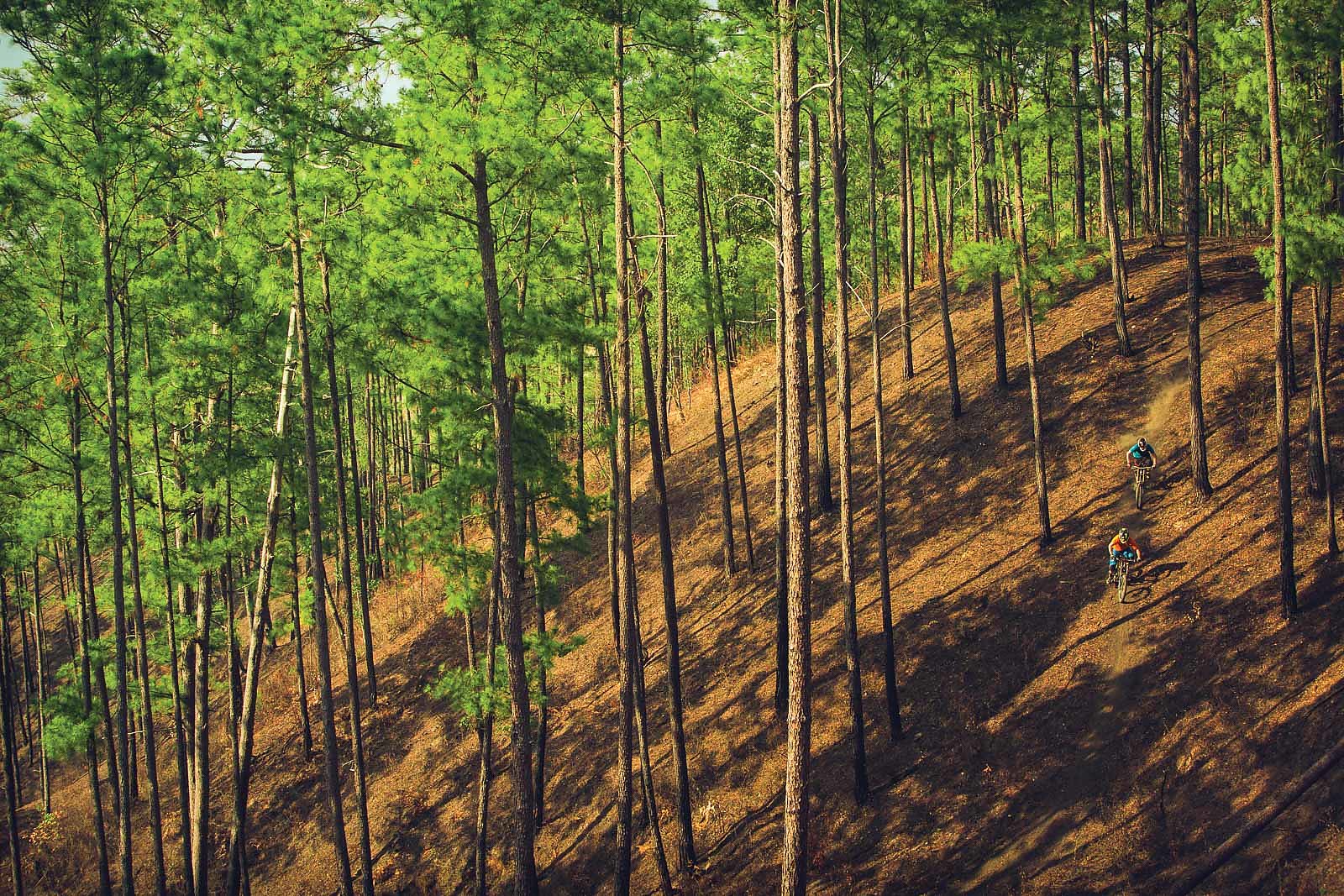 At noon we return to our cabana for the standard hammock swing-and-nap, basking in the sunshine and hashing out afternoon plans. We decide to head to Santa Lucia, a neighboring town with a few trails the Hondubikes crew had recommended. We just need to find them first.
It takes a few hours of wandering the back roads around the village, but we eventually stumble into a zone with endless ridges and expansive views of Tegucigalpa. Local farmers have recently slashed and burned vast swaths of land in preparation for the planting of maize, and the barren terrain makes for incredible (if sooty) riding. The natural lines teem with loose ruts, berms and doubles, and dust trails hang behind us as we wind through the black. It is perfect, so much so that we decide to celebrate with some street-side baleadas and evening shenanigans.
Unfortunately, our dreams of a rowdy night on the town end quickly—thanks to a new law, Honduras becomes a dry country after 5 p.m. We still find our side-street dinner, however, and are joined by Eddy, one of the street roaming mutts, who gets in on the action by completely devouring one of our plates.
Not ones to be defeated by something as trivial as a national alcohol ban, we have squirreled away a small collection of seven-year rum in case of tough times, good times or just any time in general. We spend the evening on the deck of our cabanas, rum in hand, once again watching the now-familiar POV footage. Tomorrow is the day. We are finally going to ride Los Elotes.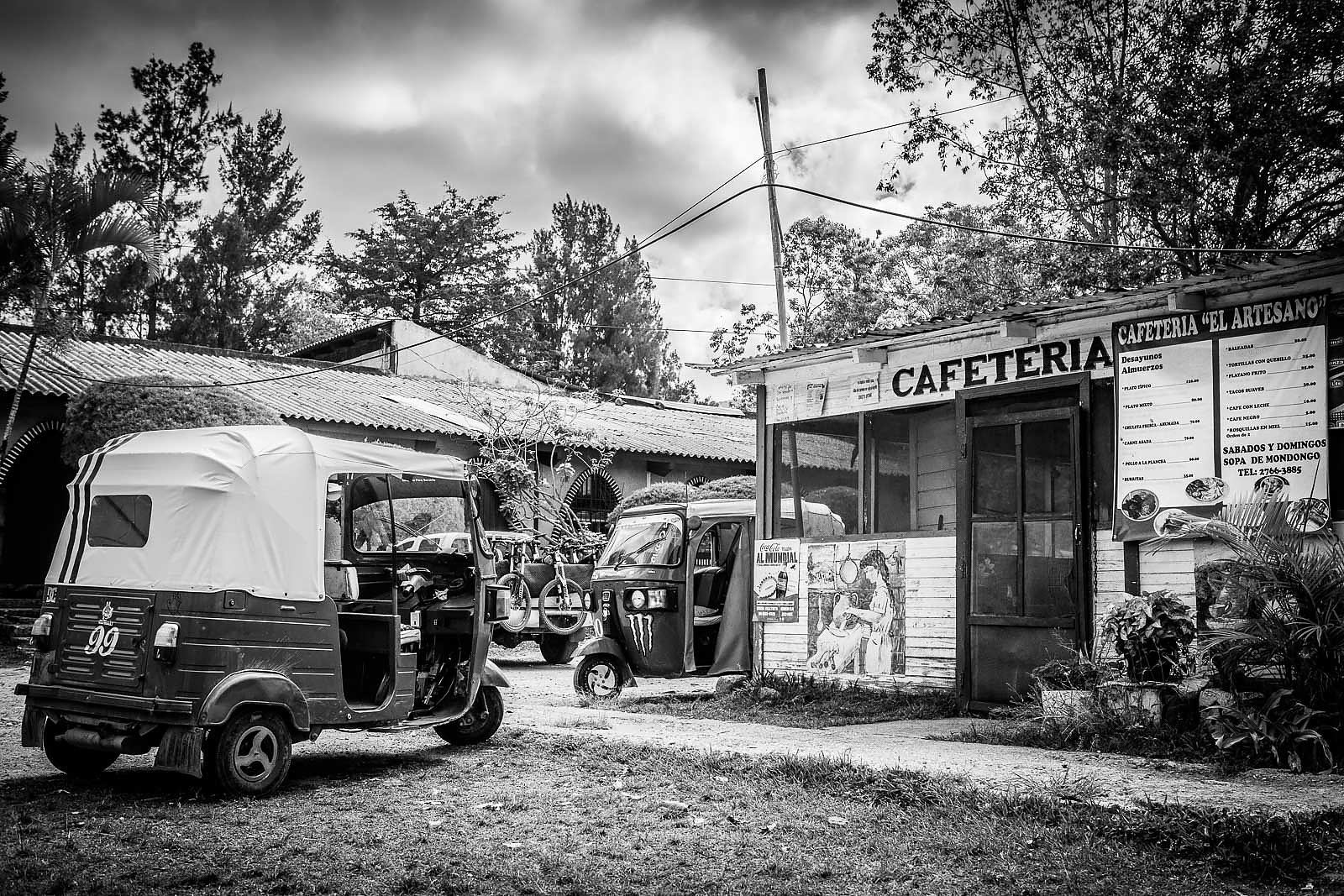 We are wrenched from our early morning stupor by a chorus of "Holas!" from the parrots surrounding our cabanas. Yesterday, we had cursed them; today we are groggily thankful, as we scramble to pack amidst a haze of rum-induced hangover and overexcitement. We hurriedly load our truck and speed towards Tegus, eager to meet up with JP and Mossi.
John Paul is not only the man behind one of the most talked-about DH trails in Central America, but also the organizer for the Sendero Maya Bike Festival. Along with featuring an internationally attended DH race, over the years the Sendero Maya has raised over $50,000 for charities such as AMITIGRA (an NGO dedicated to the conservation of La Tigra National Park, Honduras's first nationally protected area) and Operacion Sonrisa (an international medical operation dedicated to providing cleft lip and palate surgery in low income countries). Eventually, JP wants have a week-long festival including events from multiple outdoor sports, with the DH race on his hand-built track being the marquee event.
As we unload our bikes at the top of Los Elotes, JP tells us about the relationship he's developed with the surrounding community, keeping user conflicts at bay and as many people happy as possible. He's even employed the locals to help prepare the trail for the Sendero Maya and other events.
The views are huge, encompassing everything from the start of the ridge to Valle de Ángeles, Tegus and well beyond. The trail itself kicks off with a seemingly endless line of gaps and bermed corners, swiftly morphing into steep switchbacks before entering another gauntlet of high-speed gaps. It seems impossible, but the equally fast rock slab that follows is somehow even more enjoyable. Los Elotes is as progressive as anything in Whistler, and the POV footage doesn't begin to do it justice.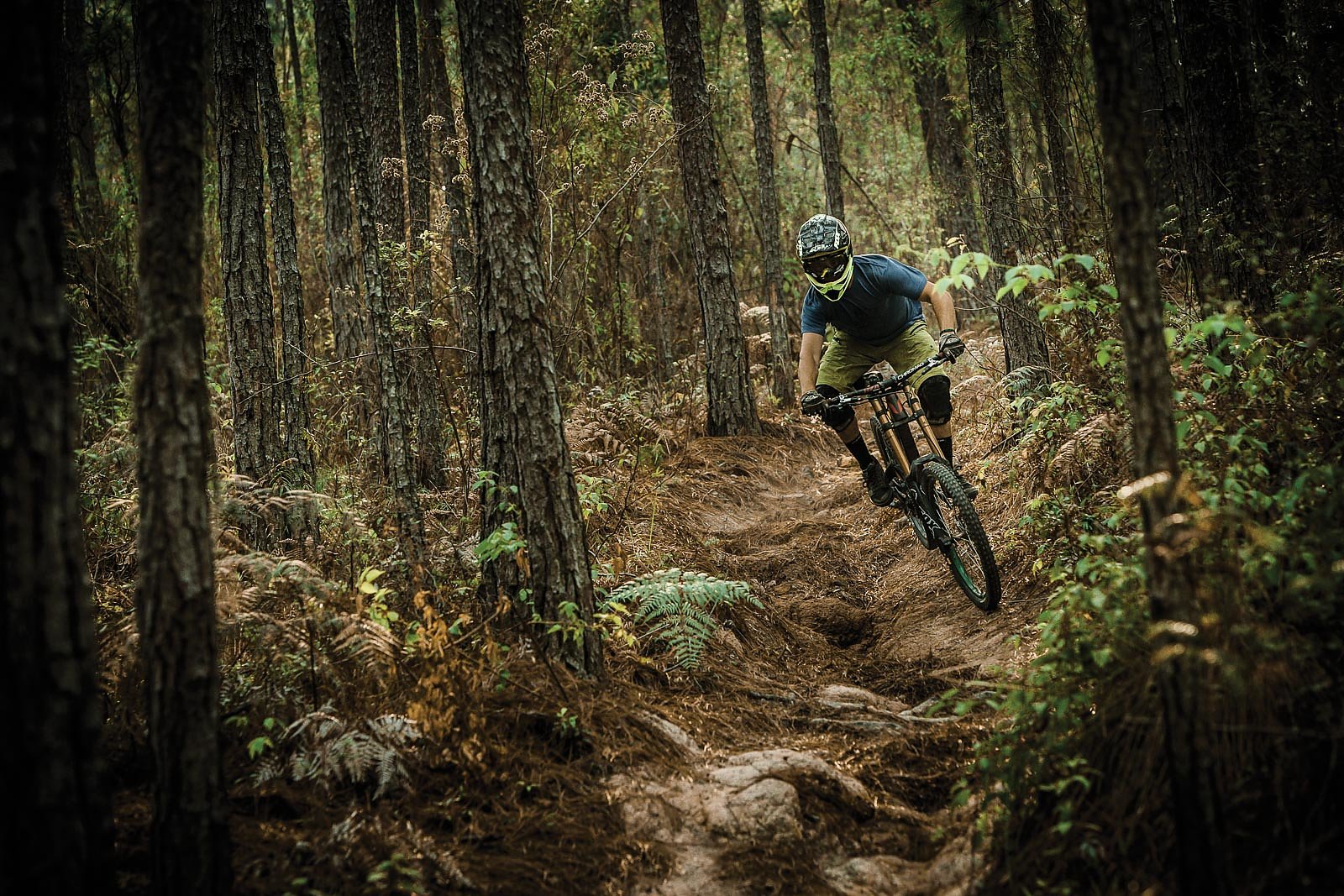 We're still nervously laughing when we reach the trail's crux, a 20-foot road gap into a berm so massive it wouldn't look out of place on a motocross track. We each stomp the drop—until one of the cameramen, Michael Sousa, comes in too hot and rag-dolls past the berm. Luckily, the only damage is a cut on his leg and a slightly wounded ego. In our medical opinion, nothing a few beers and a first aid kit can't take care of.
It is a short trip back to our cabanas, and to Sousa's delight a group from Doctors Without Borders have just checked in and gladly patch up his leg. Beers finished, cut stitched and bags packed, we hail a less-grumpy shuttle driver for our return trip to the airport and back to the grips of winter.
Passing by the last roadside fruit stands and street-eat baleadas vendors, we lament leaving, as we know there is still so much potential and so much of the Honduran mountain bike community still to meet. We talk about rebating Los Elotes, maybe even racing the Sendero Maya. There have been no gangs or guns or kidnapping attempts. There have just been open smiles, talking dogs and incredible riding.
Back in Vancouver, we know that many months of winter, snow and frozen mud lie ahead, but now we have our own POV footage to watch, not to hope and wonder over but to relive, re-enjoy and be re-inspired. And who knows—maybe it will take another bored YoutTuber to the welcoming faces of Honduras and beautiful red slopes of Los Elotes.
Faces of Honduras - Central America's North Shore as originally published in Freehub Magazine Issue 5.4