Five Ten Impact VXi Shoe Review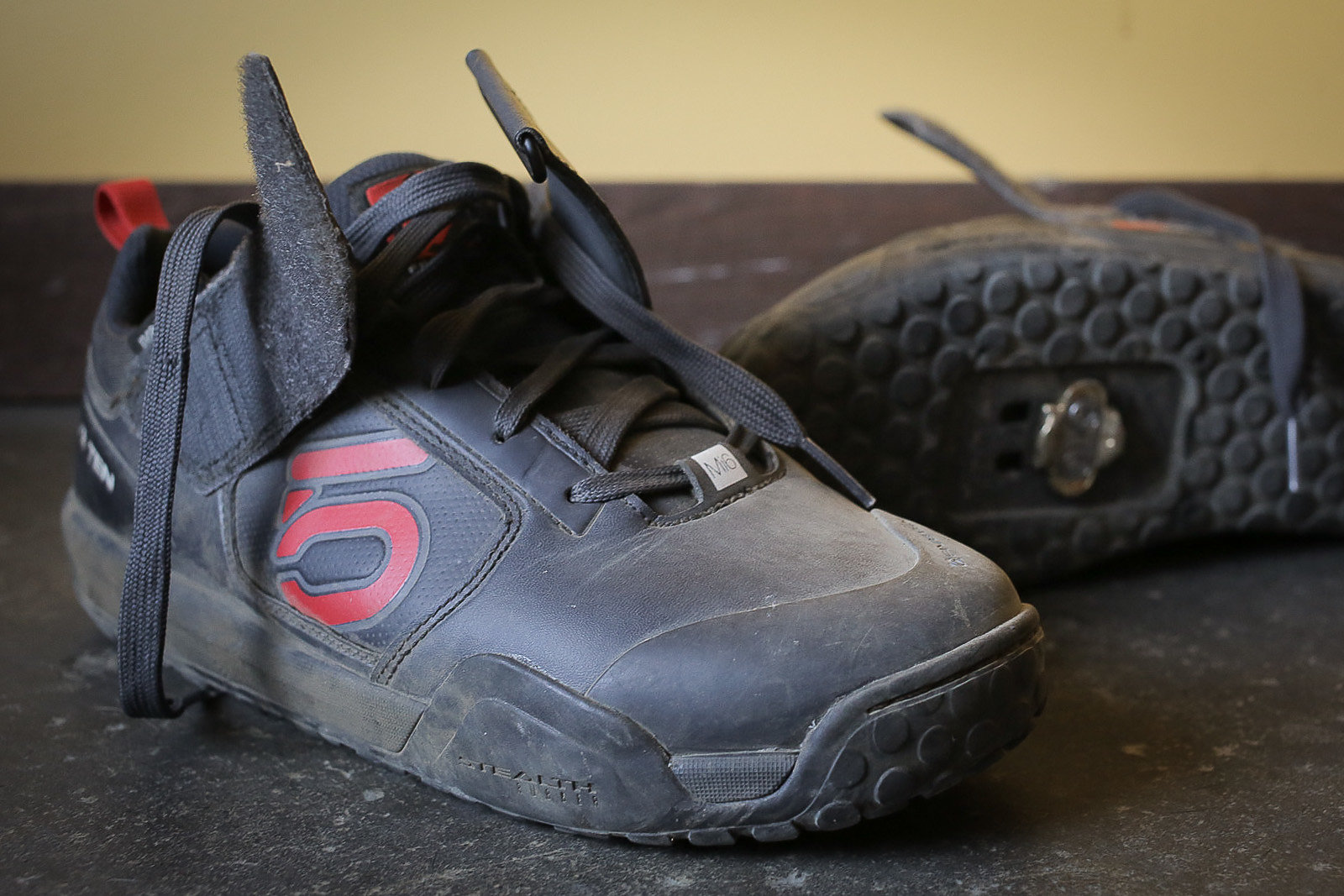 Five Ten Impact VXi Clipless Shoe Review
Let's face it—clipless shoes look goofy as hell.
Sure, appearance takes a distant second to performance, which is why we put up with dainty, hard-plastic-soled, Velcro-strapped enduro slippers. And sure, there are definitely clipless shoes out there that look reasonable, such as the Five Ten Hellcat. But for the most part, performance bike shoes are either heavy, clunky monsters or XC speed skates, instant death on linoleum.
But what if, by some muddy sorcery, we could have a shoe that performed as well as it looked? Something that felt as sexy to ride as it did to wear for post-ride beers?
When I first saw the newest generation of the Five Ten Impact series, the Impact VXi Clipless, it seemed Five Ten had done just that. They look as normal as a Five Ten Freerider, no more bulky than a skate shoe. The reinforced toe and pseudo-leather uppers seems impenetrable. The sole is Five Ten's same legendary Stealth rubber pattern and stiff—so much so I wondered about comfort and pedal-ability. The cleat grooves are much longer than on most shoes, offering more placement options. A power strap adds further security.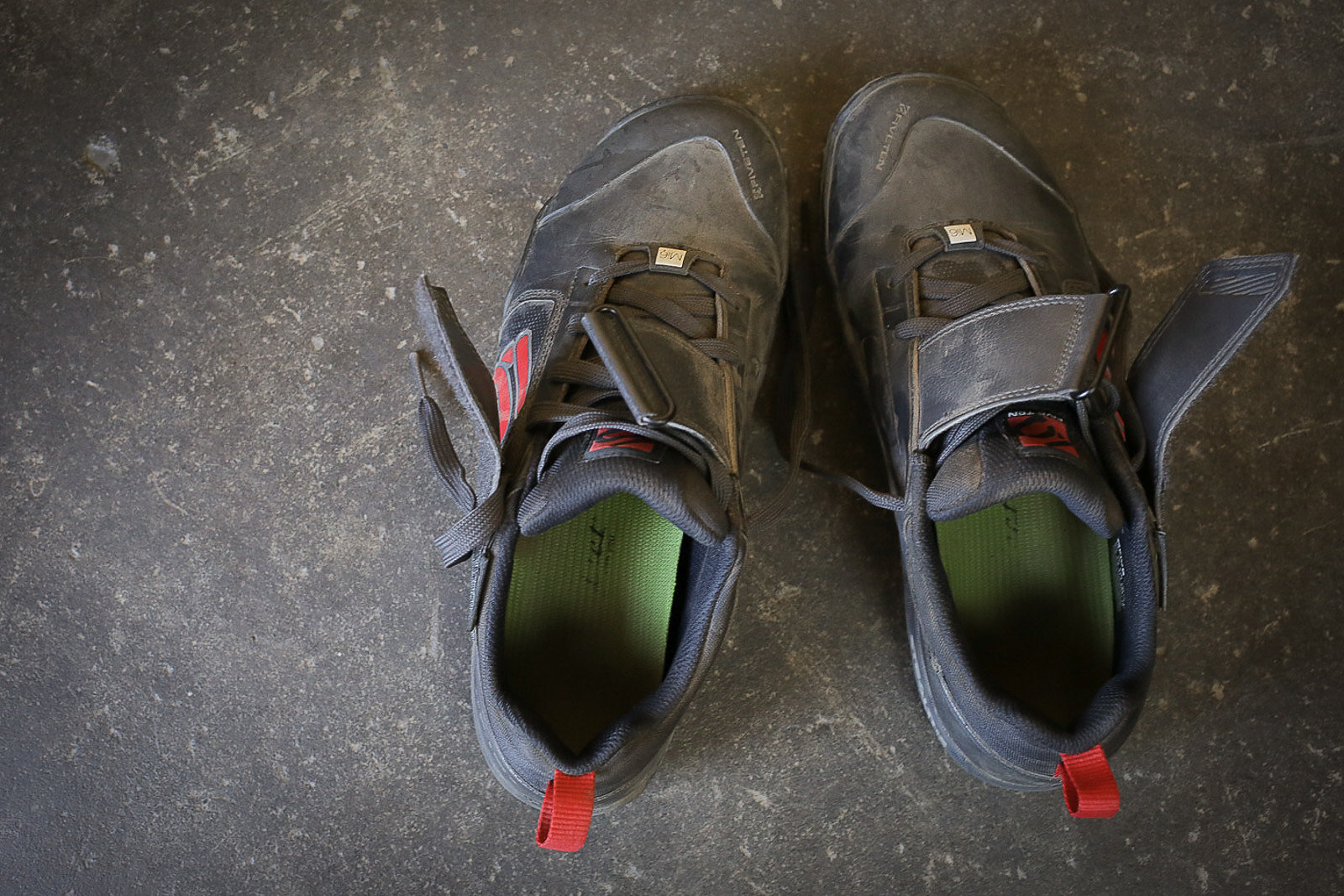 And the weight. Compared to other DH-specific clipless shoes, they are feather light. So much so they actually fall within the weight range of more traditional MTB footwear. Not the lightest, but impressive nonetheless—especially considering their intended purpose.
I was immediately skeptical. So I decided to beat the shit out of them.
Over the next five months, I rode five-plus days a week, in conditions ranging from PNW muddy to Hood River sandy, to Pisgah rocky. I rode them on a DH rig, but mostly on a trail bike, the most rigorous test of a shoe. I was using Crank Brother Mallets, a pedal with six aggressive pins and a platform-sized footprint.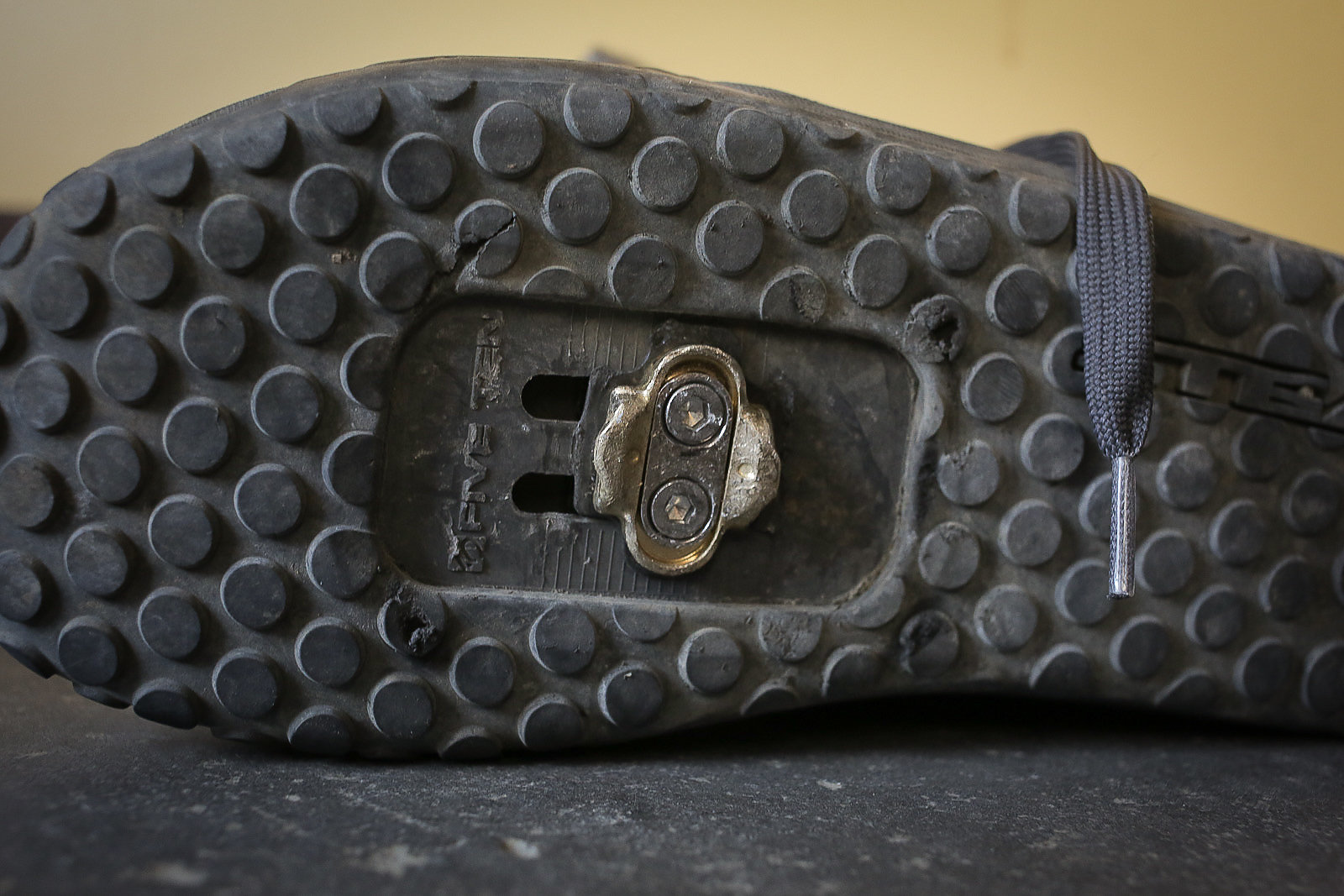 I rode them a lot, and the more I did the tastier the Kool-Aid seemed. I was impressed. Then I was excited. Then I was evangelically stoked.
I've already mentioned the features, so I'll just run down how they played out in real-world situations. The power strap kept my heel locked down, making me wish their non-clip version had one. The Stealth rubber and flat-style sole engaged the pedal pins, allowing the stability the Mallets are designed for. The outers shed mud (although it also kept the insides wet after riding through puddles, but that's to be expected), and were the most durable part. I like riding my cleats far back on my foot, and for the first time I was mounted where I wanted.
And they pedaled, amazingly enough to do their light weight justice. The stiff soles transferred energy surprisingly well, and the stiff uppers flexed where they needed to, with no pinching. While they absolutely crushed on the DH bike, it was on the up where they shined. This is a shoe that embodies all the aspects of "enduro" perfectly…whatever the hell that means.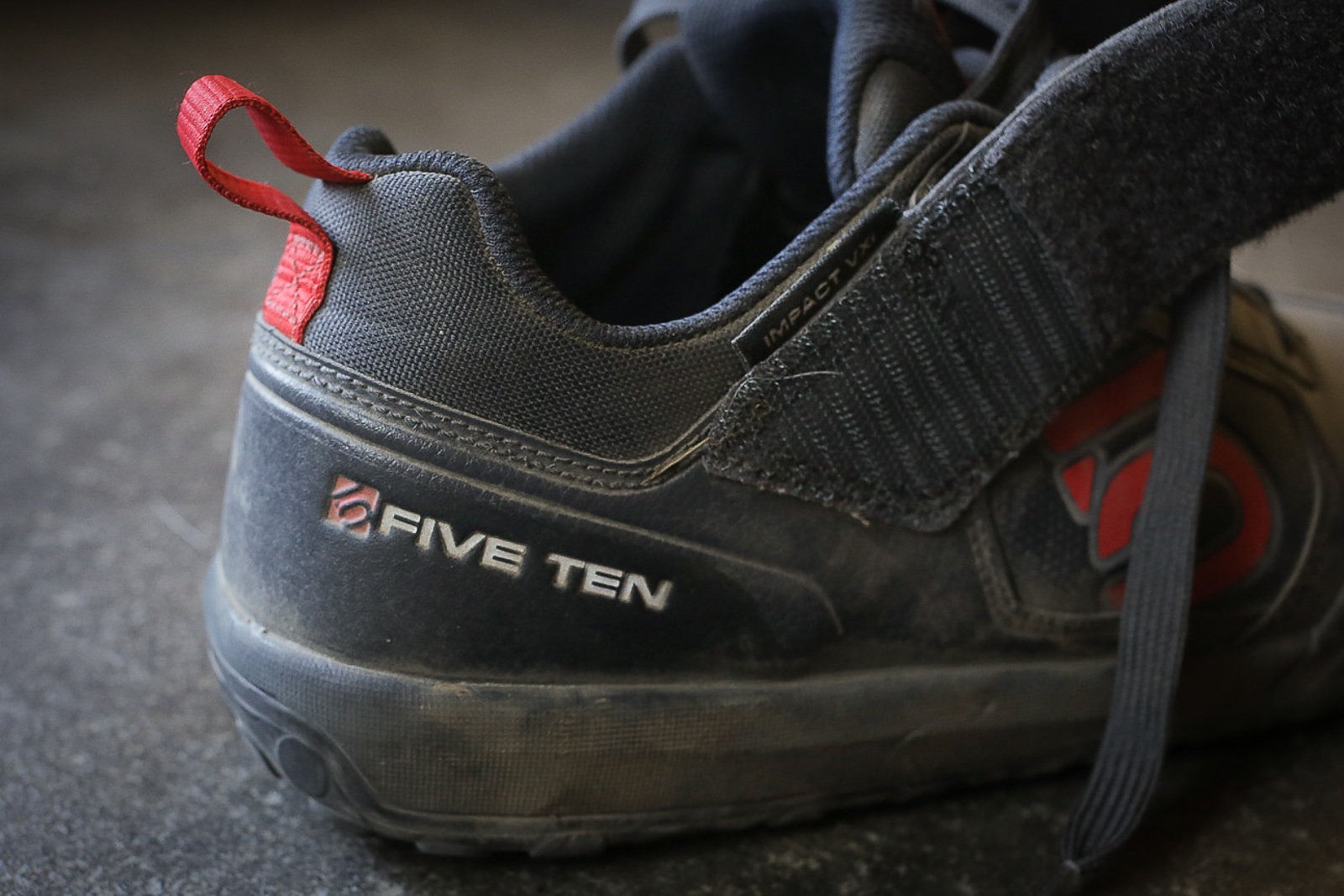 Everything has flaws, and the Impact VXi does have a few. The fit, in classic Five Ten style, is borderline excessively roomy, a problem easily be solved by trying them on first and dropping down a size (I went from a 9 to an 8, and it made all the difference). The burly uppers blocked mud, but also limited breathability…which, considering their intended purpose, is understandable. They're not the lightest on the market, but they aren't supposed to be. They're still borderline-XC light, with the performance of a DH-specific shoe—a worthy trade, in my mind.
The weakest part of the Impact VXi was long-term durability. The sole separated around the cleat—probably due to the increased torsion of the Mallet's pins and large footprint—requiring some Gorilla Glue. The power strap on one shoe eventually pulled out, which wasn't awesome. And the clip grooves, the length so wonderfully adjustable, broke in the middle, finally ending the shoe's life. This can be much remedied with Crank Brother's carbon-sole protection plate, a little metal shim that is designed to minimize wear on lighter shoes.
Which brings me to the warranty process. I had hammered these things, rallied them through two pairs of cleats, and Five Ten just asked I ship them in for evaluation. A week later, I had a new pair, and a new faith in the company.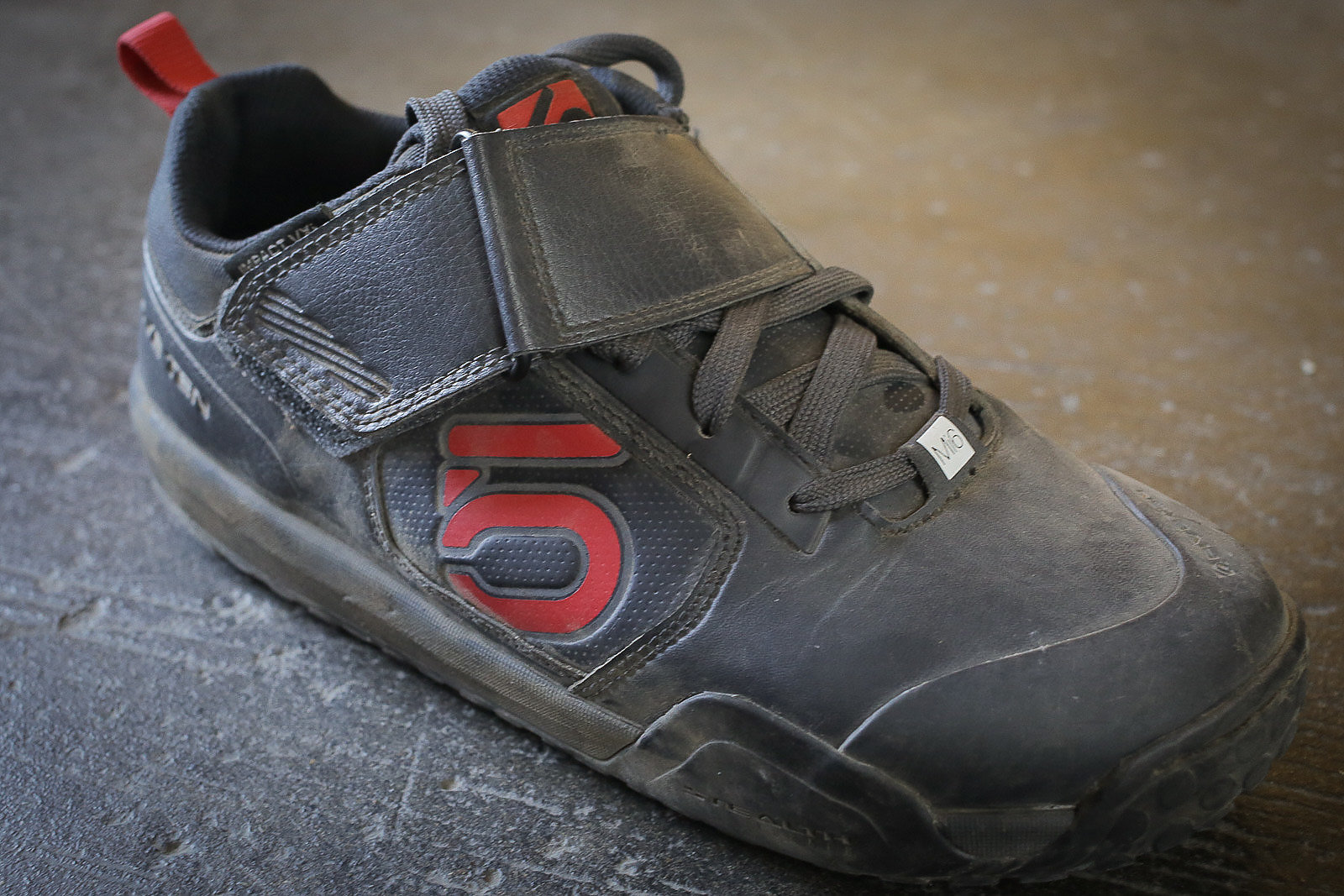 So, five months from my initial skepticism, I've become a believer in the Impact VXi. It performed exactly as well as it seemed it would, in every way, and it's easily the best shoe I've ridden. The durability was an issue, and I feel with heavier stitching on the power strap, a heavier glue on the center of the sole, and a burlier plate for mounting cleats, this all could be fixed, and I hope Five Ten does so in the future. At the same time, they did suffer through five months of rigorous abuse, which is reasonable, I guess.
In the end, however, perhaps the biggest strength of the Impact VXi is that I don't feel ridiculous walking into the bar at the end of the day. I don't have to switch into flip-flops to avoid being "that guy" with the Velcro XC slippers… although you still have to be careful on linoleum. Those cleats can get you.