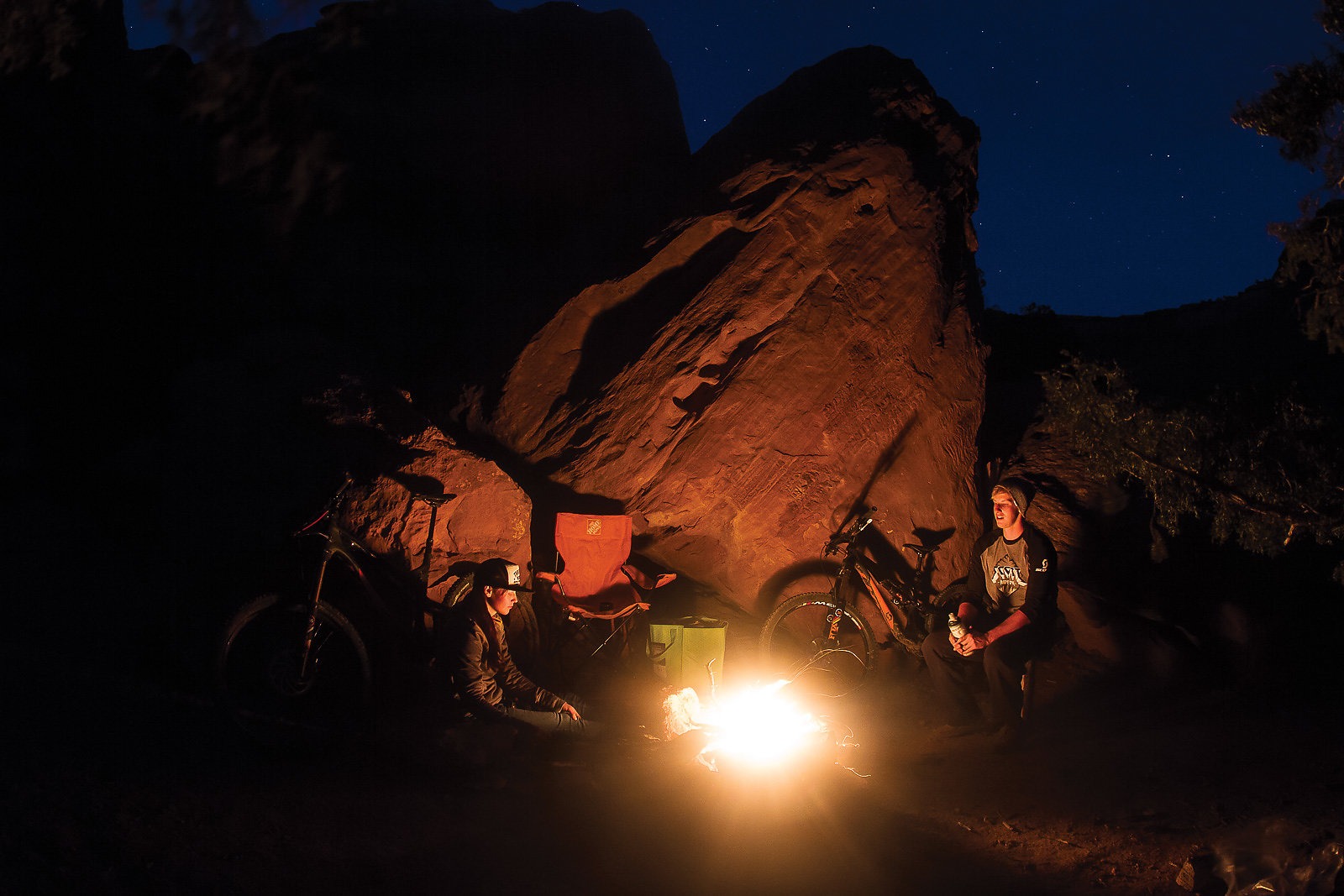 Standard Style - Sunburnt and Slightly Lost at the Moab Scott Enduro
I threw my bike, some camping supplies and a slew of riding gear into the bed of my truck while the checklist I had prepared lingered somewhere in my living quarters. I knew I had forgotten something. I just hoped it wasn't important.
For most people, the route from Salt Lake City to Moab, Utah is foolproof: four hours, four different highways and only three exits. Being directionally challenged, I plugged the directions into my navigation system and turned up the volume. If it didn't keep me on track, and least it'd offer some awkward robotic conversation for the solo drive.
My mission was the first stop of the Scott Enduro Cup, a three-year-old contender in the burgeoning "enduro" racing circuit. The Cup includes stops in Sun Valley, Idaho and Canyons Resort, Utah, but with the notoriously rough terrain surrounding the town, the Moab venue promised to set a burly tone for the series.
For anyone who hasn't been to the desert mecca of Moab, the drop from the barren flatlands surrounding Crescent Junction to the Colorado River is one of the most geologically dramatic entrances in North America. Almost in the space of a single turn, the huge red-rock walls lining the river jump into view, and spectacular cliffs, bluffs and towers stretch into the distance. On the left is the zigzagging road to Arches National Park, its climb incised into the side of the sheer wall that hides the park's namesakes. It's a landscape both loud and secretive, the massive rock halls hiding millennia's worth of secrets, of ghosts and folklore—and boasting some of the best desert riding in the world.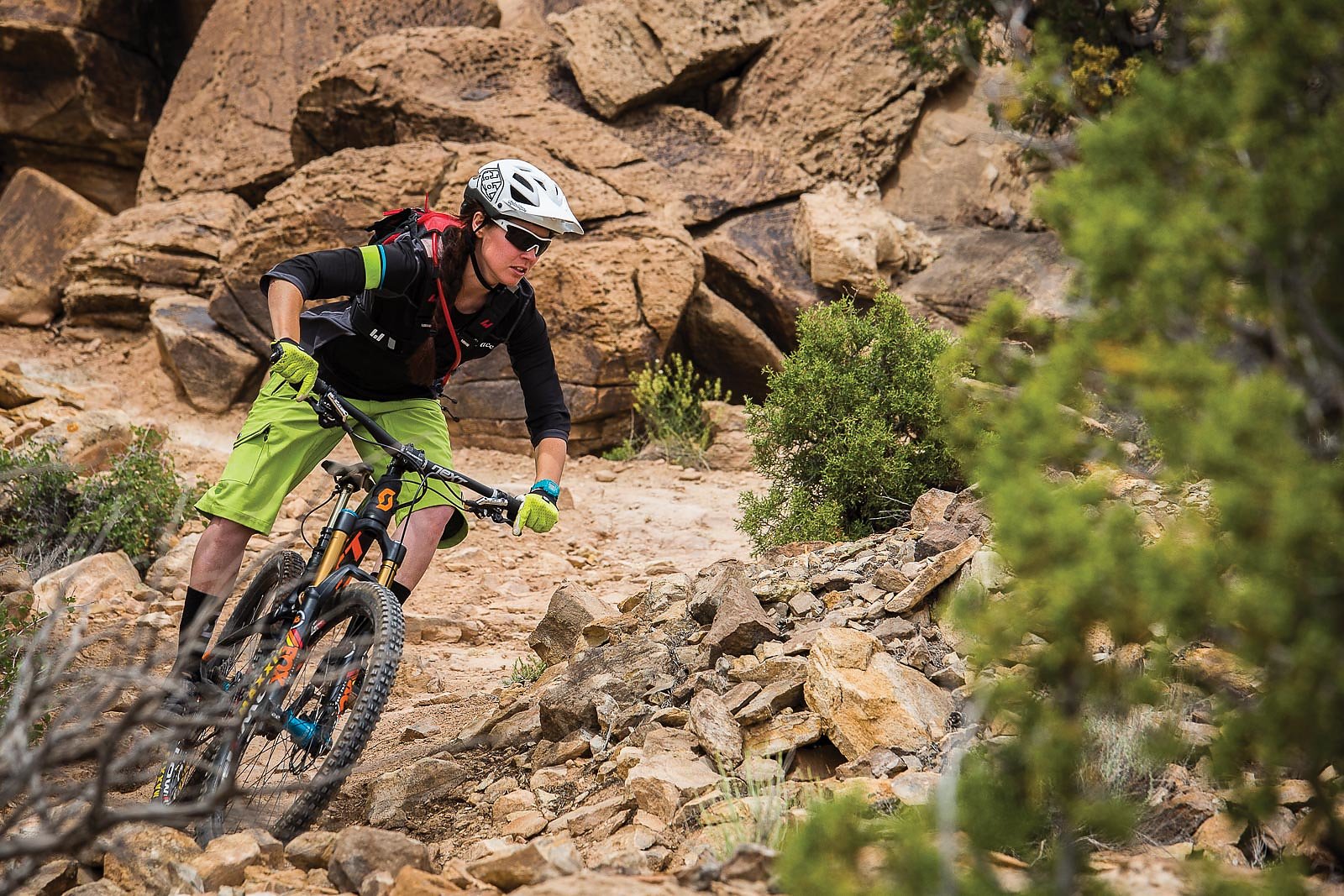 It was noon when I rolled past the Arches entrance, and I decided to spend the afternoon investigating the race venue. The 25-mile course meanders through the slick rock of Klondike Bluffs, a trail system a few miles north of town, part of which—like much of the area around Moab—is accessed by a tumultuous 4x4 road. The drive is only a few (creeping) miles, but when you haven't peed for four hours, it feels like hours.
A few friendly riders assured me I was in the right spot, and I ate some lunch while checking out the specifics of the course. I had ridden in the area before, but not on the trails where the race would take place. Considering my innate ability to get lost everywhere, I was more than appreciative of the provided map.
Filling up with food and water, I headed out to ride the course in its entirety (some form of familiarity might help avoid mid-race wandering, I figured). Slick rock requires a different type of trail markings, and at Klondike Bluffs each route is demarcated with dotted lines of paint on the stone and color-coordinated signs at intersections. It may seem a little obtrusive to some, but I found good company in the colorful markings—the terrain was wildly unpredictable, with rolling slick rock and tricky ledges on punchy climbs. I made it to the end without any issues; however, on the way back I missed a turn, adding 45 minutes to an already long practice session and forcing me to use a prickly branch instead of toilet paper.
I returned to my truck to find my Freehub teammate, Stan Jorgensen, waiting for me in his matching Tacoma. Stan is a tall, lanky 25-year-old from Santa Barbara, Calif., and with multiple years of racing experience he always has a solid perspective on everything from line choice to pre-competition mindset. He is loud, animated and always slightly lost—maybe why we get along so wonderfully.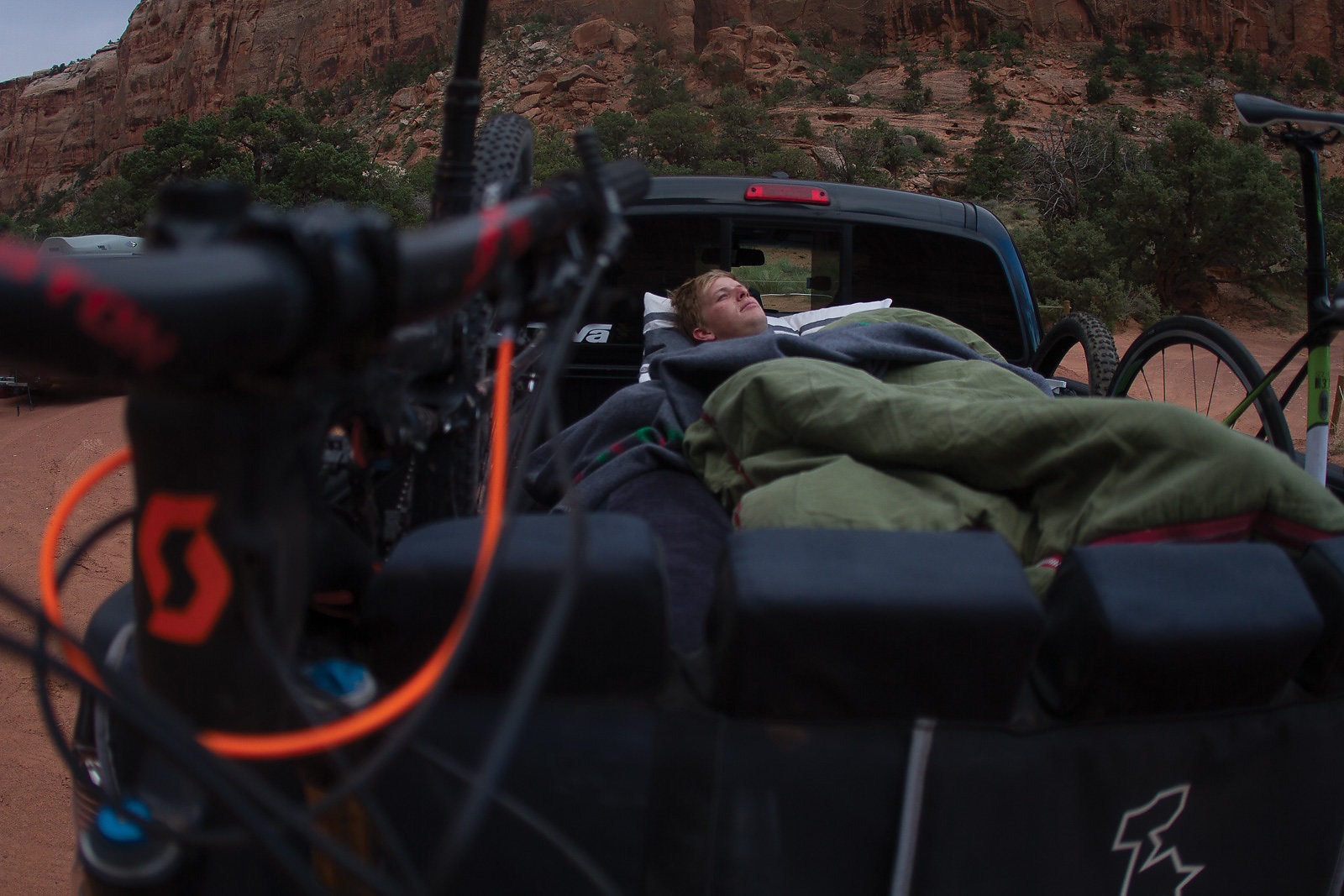 Across the highway from Klondike Bluffs is Gemini Bridges, an iconic set of natural arches that attract hikers, bikers and 4x4ers. Over the years they've seen more than their share of misfortune: multiple people have died trying to jump the 10-foot gap between the arches, and in 1999 a man in a 4x4 accidently drove off the outer edge and fell 160 feet to his death.
Tragedy aside, the area also makes for stunning camping, and we found a site at a nearby campground of the same name. The massive red rock walls surrounding our trucks were astounding for anyone. For Stan, whose first visit it was to Moab, they were next-level, so when he began to set up his air mattress on the rocky, cactus-strewn ground, I thought he was simply overwhelmed. Between the aforementioned hazards and monsoon rains, air mattresses don't fare too well in the Southwest. I've never been to California so I can't judge, but I chuckled at his naivety as he stumbled in search of a spot near our fire ring. "Are there snakes here?"
The next morning we woke up early and headed into town for coffee and breakfast. It's not hard to find your way around Moab—the current permanent population is just over 5,000, and the "downtown" consists of a few streets. The town's rough-and-tumble feel is authentic, and it's actually smaller than it was during the 1950s, when it became the "Uranium Capital of the World" thanks to the Cold War and the huge radioactive deposits nearby. Mining has slowed since then, replaced by tourism and agriculture, but plenty of work trucks still fill the parking spots alongside expensive 4x4 rigs and carbon bikes. There's money in Moab, but "Main Street" is still a relative term.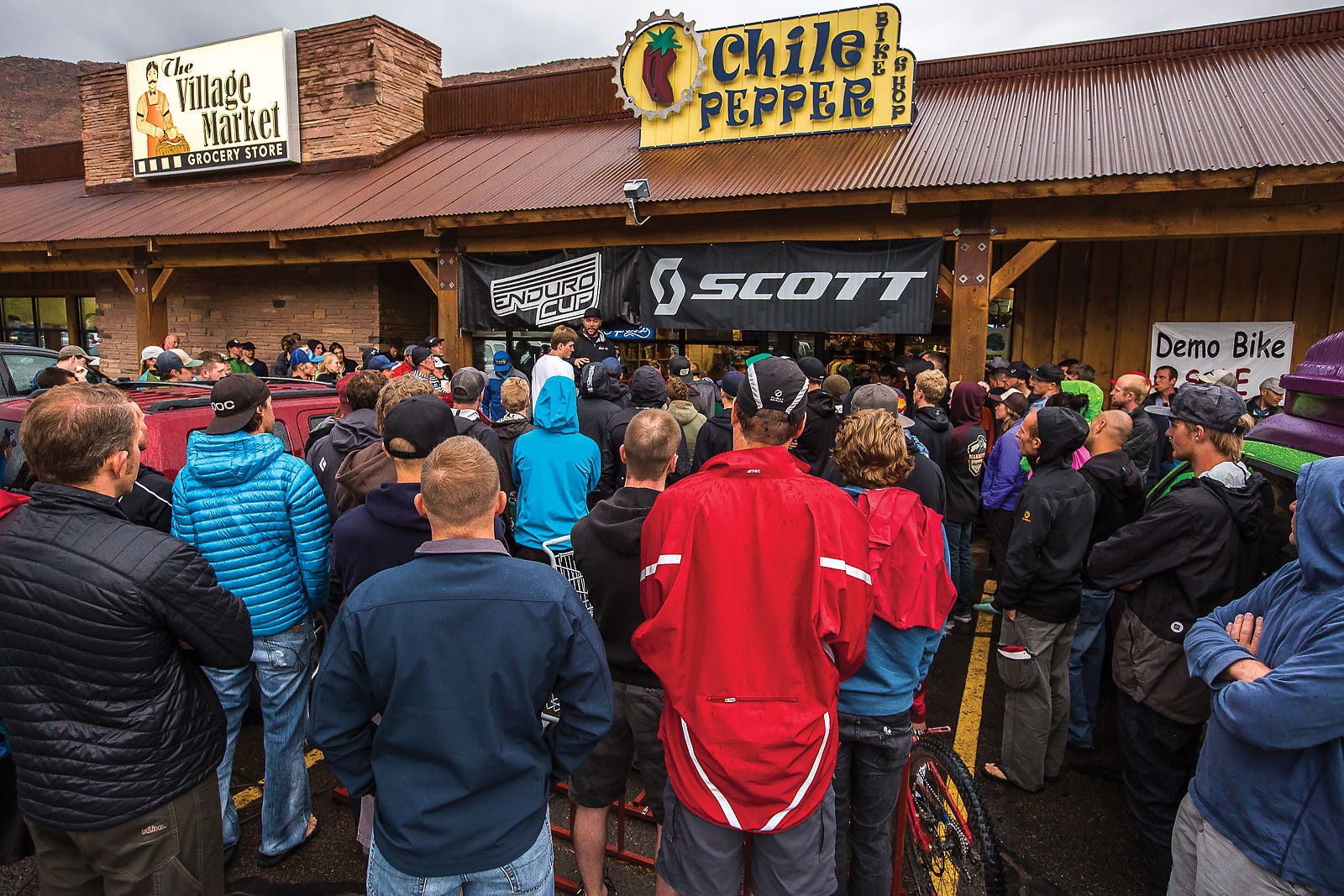 We parked in the busiest part of town, and were soon greeted by Beth Roberts and her dog Jessie. Beth is a Moab local and mountain bike fixture in the area, a guide who offers week-long adventures to riders of all ability levels. I'd met her before on previous trips to the area, and as we sat down for breakfast she assured us there was no need to lock our bikes—a foreign and uncomfortable concept for me, but I took the opportunity to embrace this optimistic view of humanity. She was right—there were mountain bikers everywhere, and not just because there was a race in town. Moab is a town full of folks who don't worry about things like deadlines and the latest and greatest gadgets; folks who don't steal bikes.
With breakfast finished, we headed out for a pre-race practice ride to preview the course. After a short climb to the top of the first descent, we meandered along the ridge until we reached the start of what would be the fourth stage. The trail was called Baby Steps, and after a few loose corners Stan ripped a knob off his tire, resulting in a flat—foreshadowing, although unbeknownst to us at the time. Mechanical issues aside, the stage turned out to be the most gravity-fed of the course, and we soon agreed it was our favorite. Then, halfway down, our hoots of fun were interrupted by Stan's second flat—and then, as we climbed to the top of stage three after a quick repair, his third. We were out of tubes, and the storm clouds were rolling in.
Our savior showed up in the form of a rugged British Columbian. He removed his sunglasses to reveal a black eye, which we later learned was accompanied by some badly bruised ribs as a result of a crash the day before. Thanks to our Canadian rescuer, we made it back to the truck just in time to miss the rain, and, in standard Moab style, rallied a 4x4 track back to the main parking lot. Stan was hesitant, creeping his Tacoma through the massive rain ruts and steep side banks, but I took the lead and guided him through the rubble. In Utah, you can't be afraid of a little bit of rough road.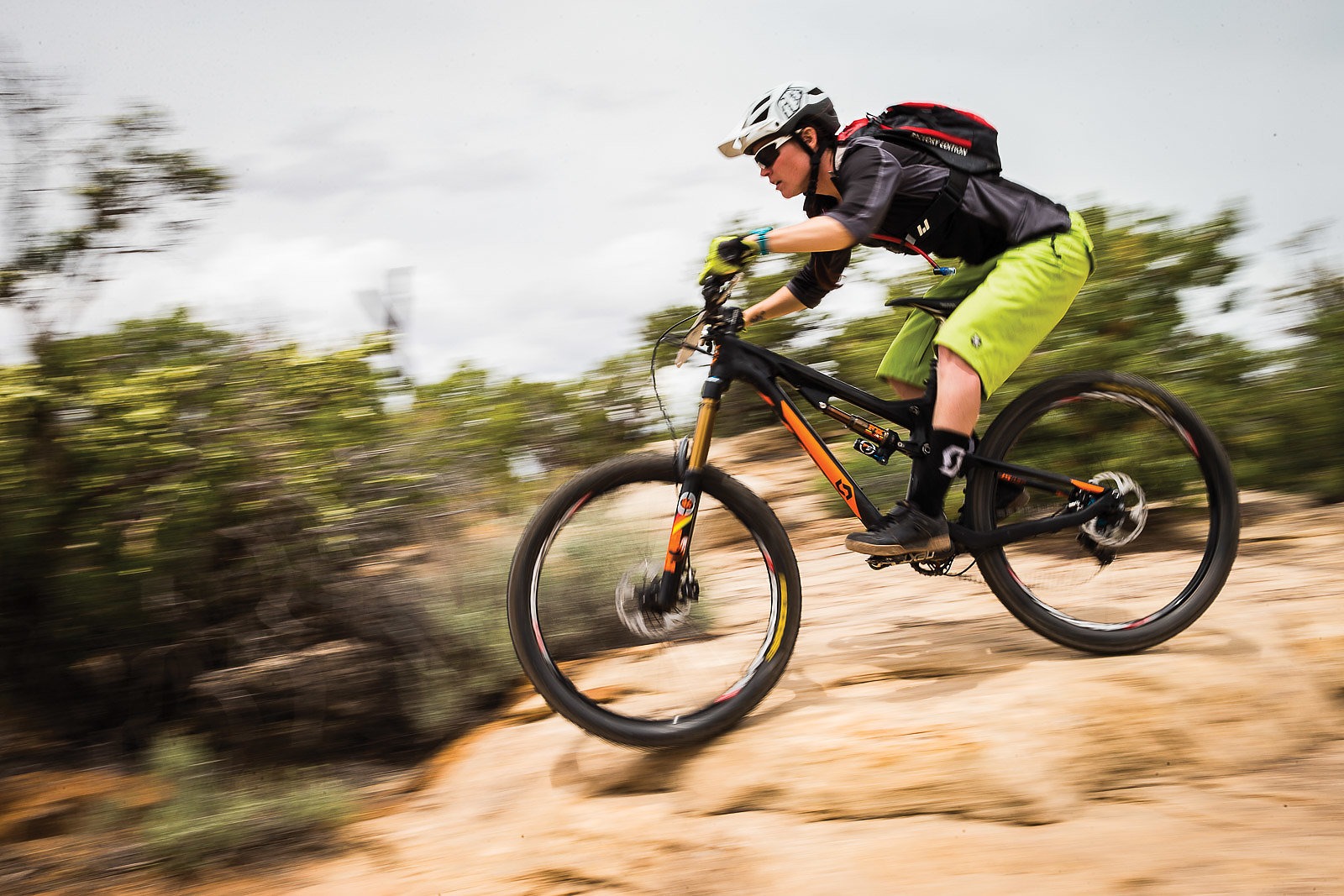 The wind and rain had fully arrived by the time we made it back to town, and so when Beth offered us a place to stay for the night we gladly accepted—as gorgeous as our campsite was, neither of us was into flash floods and soggy dinner. After attending the racer's meeting at a local bike shop, we enjoyed Beth's company over bison steaks and salad, and tuned up our bikes in preparation for morning. As Beth and I watched Stan meticulously craft handlebar origami out of our number plates, we discussed what the following day would hold.
I soon retired to the broken-down Volkswagen van in Beth's driveway that doubled as a guest house, a spacious (and dry) upgrade to my previous night's digs. Before drifting off to sleep, I made a final mental note: Add a few extra tubes to our packs. You can't always depend on friendly Canadians.
Our 6 a.m. wakeup arrived quickly. I heard Stan stumble from the bed of his truck just before dawn, apparently having suffered from the same clinging-to-the-edge-of-sleep feeling that had kept me quasi-awake all night. Rousing myself from the warm confines of the VW, we headed to the race venue, coffee in hand.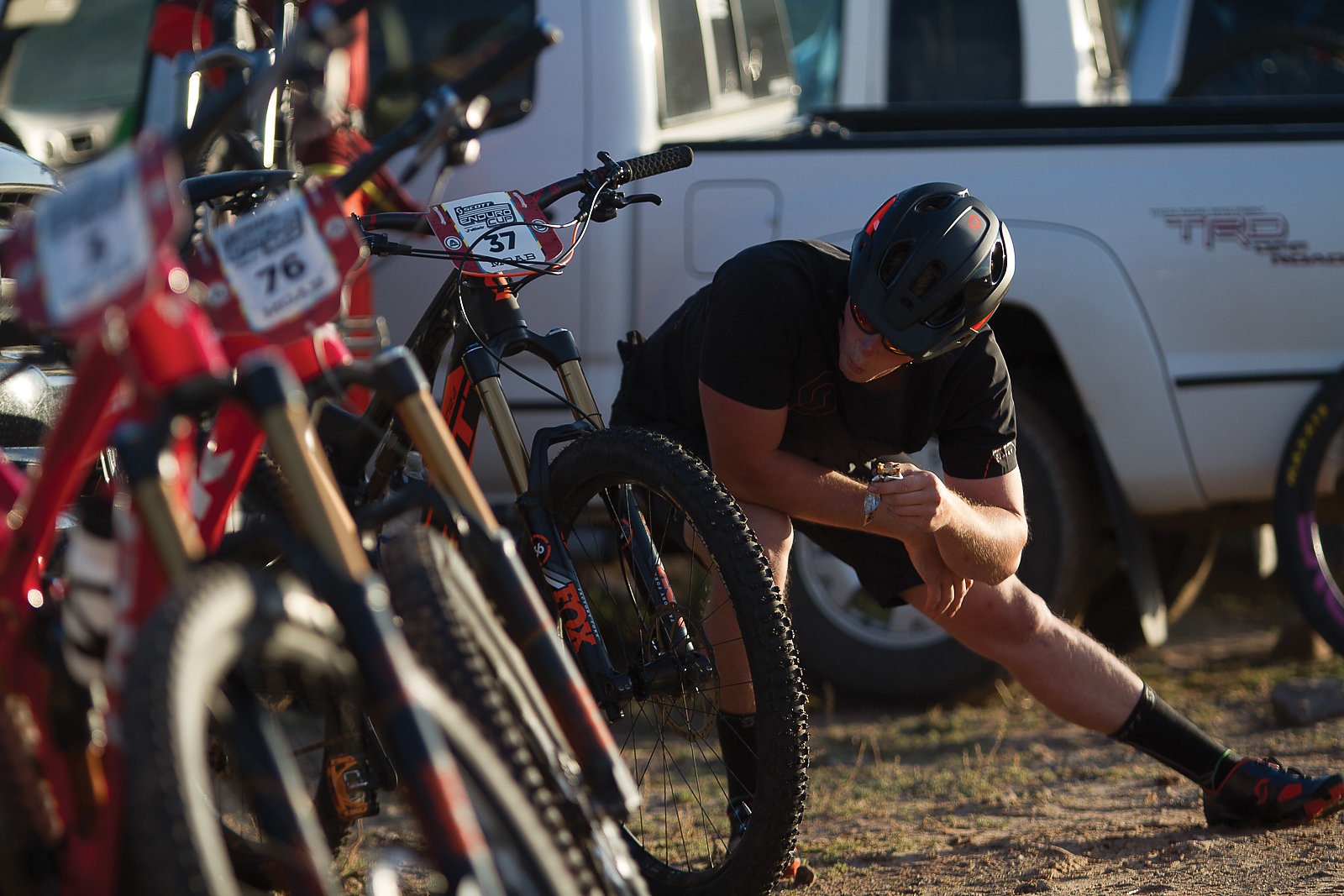 At over 4,000 feet above sea level and in the bottom of the Colorado River Basin, May nights in Moab can get surprisingly cold, and so racers chatted and stretched in an attempt to stay warm before the mass start. As is standard with this style, the first climbing stage was a mess, with all of us equally confused as to where exactly we were supposed to be going. In a normal situation this might be frustrating, but that's what is so great about enduro racing. With no one battling to be first to the top, the climbing stages are a group effort, and so we chatted and giggled in directional collaboration, making it to the start of the first timed descent in great spirits.
And with that, the clock began.
The first two stages were fraught with stout and sneaky climbs mixed into long and fast sections of slick rock. The friendly painted guidelines quickly turned villianous, daring us to keep up as the sun glared off the rock and into our eyes. While the trickiest bits of the course were taped, it was easy to veer off-track and into the wayward ocean of slick rock. I often found myself yearning for the comfort and guidance of shaded singletrack.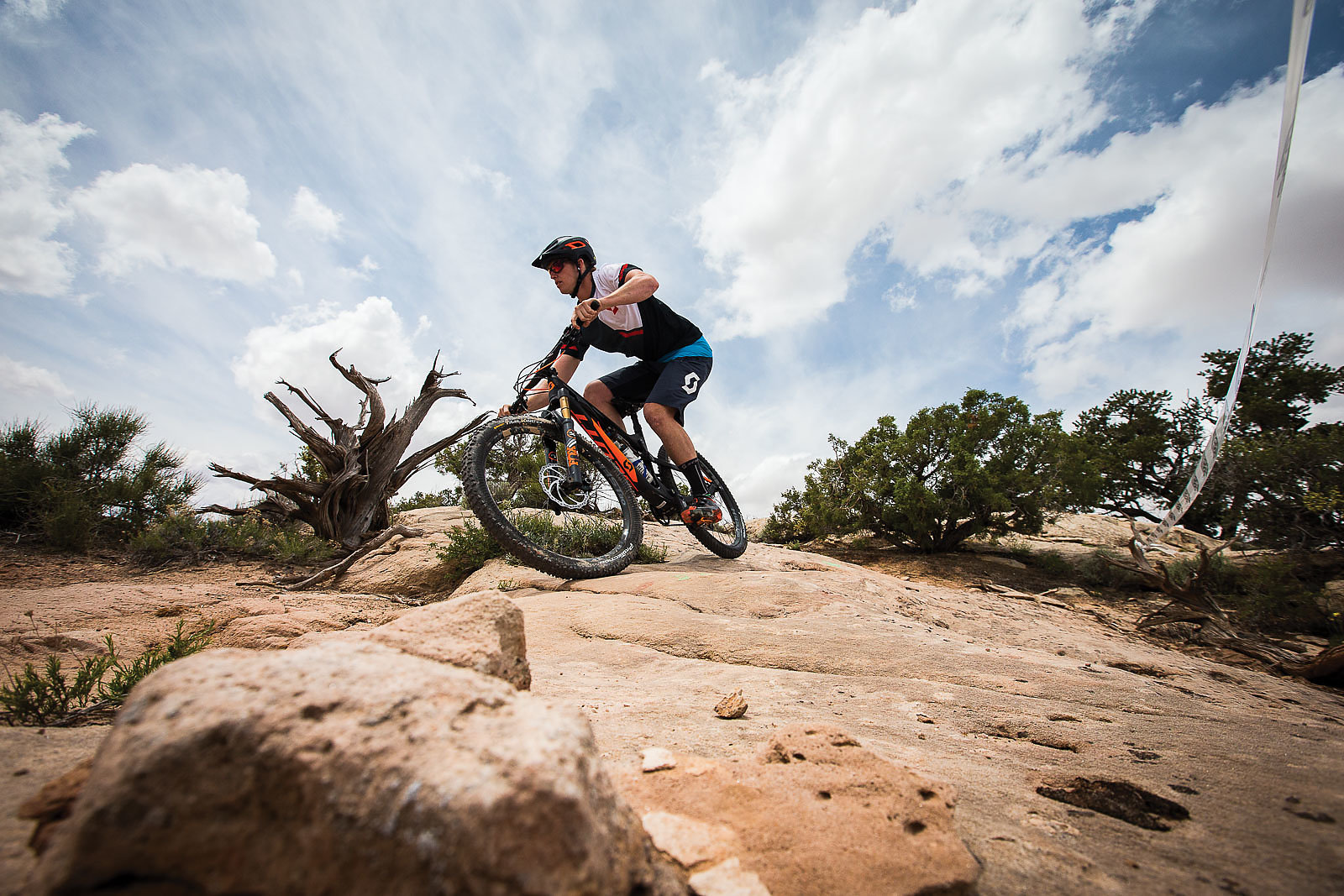 The second climb was steady and gradual. Once again, the ladies chugged along as a group, discussing the previous section as we made our way to top of a pedally descent named Alaska. Theoretically, the next climb was the shortest and should have been the easiest; in reality, a series of tricky moves the entire way up made it equally demanding, and I was just able to stave off a major bonk with sport beans and a peanut butter sandwich. Stan, I'd later learn, wasn't so lucky.
Reaching the top, I dumped my bike and lay down under a shrub in a sliver of shade. Despite the chilly morning, the midday sun was vicious after such a climb. I was revived by one of the stage's course directors—at about eight inches tall and decked out in a leather bomber jacket, he was friendly in the way only a canine can be. I was instantly smitten, and took a little more motivation into the next descent. I soon found out I'd need every ounce.
Desperately clinging to my handlebars over the chattery and relentless terrain, the different trails of stage three all blended together. The only detail that stands out was the relief I felt upon crossing the finish line, an emotion duplicated as I finished the final grueling climb to the top of the last stage. Technically I wasn't finished yet, but I was already celebrating the fact I hadn't been shaken to bits during the previous, riotous descents. With pummeled forearms and suffering general exhaustion, I somehow clocked my best time on the final stage—possibly because I was so over the top with enthusiasm after making it through the day alive.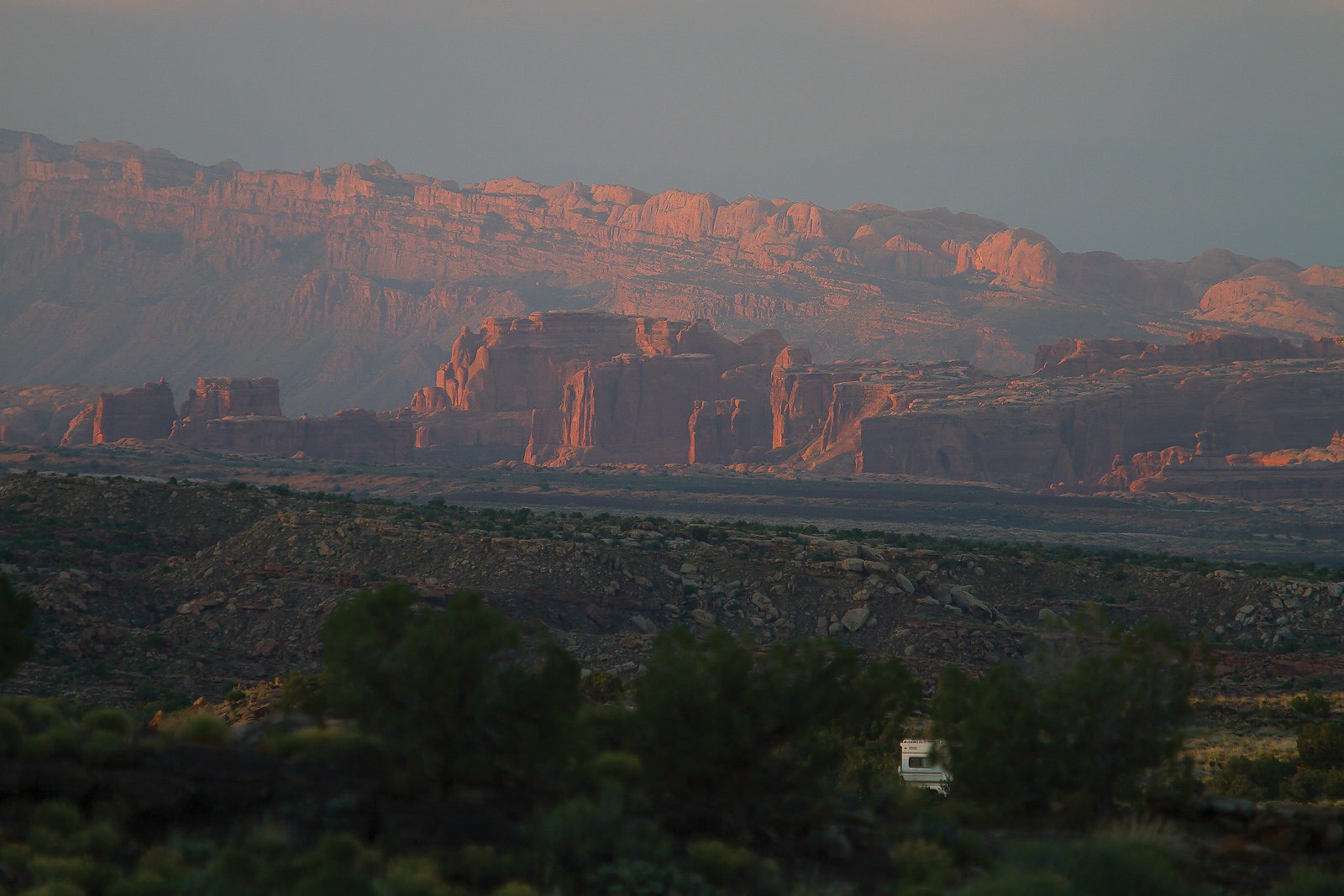 The next morning I pulled out of Moab, the tinny voice of my navigation system guiding me past the sheeny red walls and chocolate spring waters of the Colorado River. Stan, Beth and I had said our goodbyes, and I had another month and a half to prepare for the next Scott Enduro Cup event in Sun Valley, Idaho, where cactus and 4x4 roads wouldn't be an issue. There also probably wouldn't be any Chihuahuas at the transfer stages, but I imagined it to be a fair trade.
The terrain around me soon shifted to sun-bleached flatness, and I prepared myself for four hours of music and one-sided robotic conversation. And, as the miles rolled by, I tried to remember what unchecked items might be on the list I had left days before.