Big Sky Gamble Rolling the Dice in Montana's Backcountry
Trail beta comes in many forms. Sometimes you hear about a new spot from someone you meet at a fat tire festival.
Sometimes, often with a glimmer in their eye after having just shared a parking lot beer with you, a stranger opens up and provides a few good nuggets of information–just enough to pique your interest and plant the seeds of curiosity. Then there are the trips you don't really plan for at all. Using just a few squiggly lines on a map, an elevation profile and the promise of sweet singletrack, a route is born. It is on these trips that we stand to lose or gain the most.
After a spring and summer spent navigating all things Covid-19–travel restrictions, crowded trails, ever-shifting perspectives and recommendations for responsible activities–I was more ready and excited than ever to plan a fall trip somewhere close to home in Montana. I was born and raised in Missoula and through our tight-knit riding community here I've come to know Eric Melson and Marc O'Brien. Eric runs a small coaching and guiding company called Ride Montana, teaching bike skills and leading iconic backcountry rides through western Big Sky Country. He's equally passionate about riding, conservation and sharing his favorite routes with others, and his encyclopedic knowledge of Montana's trails is why he's my first call when I'm researching anything off the beaten path. Marc is a photographer, a seasoned Montana adventurer, and the inspiration for this trip.
With Canada off limits, we decided to stay within state lines and to travel and camp in separate vans to limit exposure and potential spread. Eyeing up new ground in our extended backyard was the obvious choice, but the itch for something new and exciting was real, so where should we ride?
The trails surrounding the Bob Marshall Wilderness Complex had been on my radar for many years, however I had mostly viewed the area as a place for extended backpacking trips, skiing, and scrambling up peaks–a jumping off point for some of the North American interior's most rugged and pristine land. It was Marc who first planted the idea of riding there on my mind and Eric had come back from a trip to the region earlier in the year with glowing reviews. But he left feeling like he'd only just scratched the surface of the area's potential. As summer faded and temperatures dropped, the window for exploration was rapidly closing before the trails would be blanketed in snow.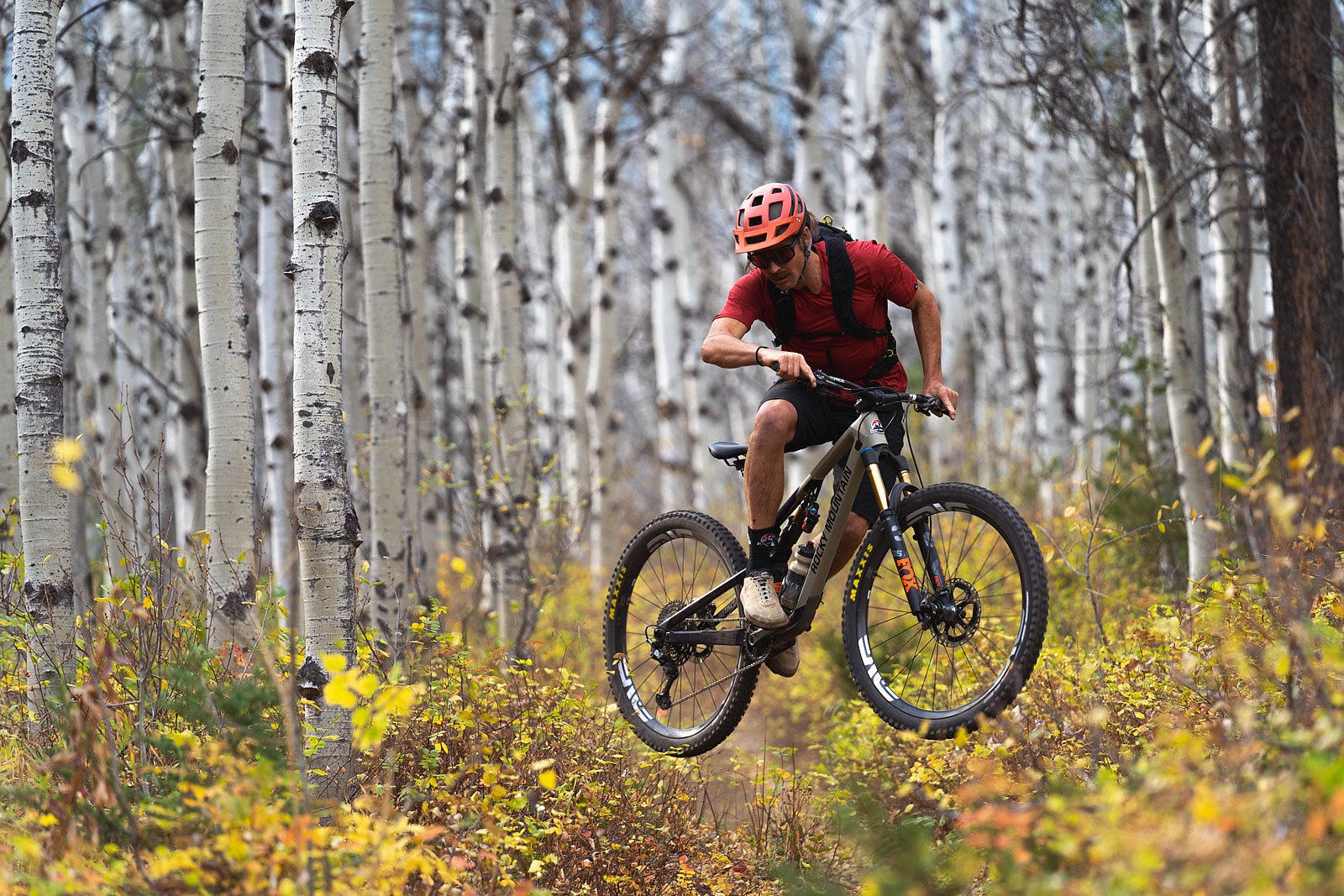 Even with Eric's stamp of approval, I was skeptical. Most of what I had heard about the area was in regards to its dense grizzly bear population and large number of horse and mule trains used to access the vast expanse; over a million acres of wild country closed to bikes and best accessed via two feet or, in many cases, four. But my COVID cabin fever was setting in, and the timing was right to take a chance on digging a little deeper into our backyard. Eric's background in mountain bike advocacy–four years spent working for the International Mountain Bicycling Association (IMBA)–and guru-like trail memory gave me a certain level of assurance too. He's the type of rider who can rattle off every detail about even the most out-there trails– "don't miss the double off the third root when you start down the big descent!"– and so, together, the three of us committed to an autumn adventure.
Before long, we had made our camp menu and planned to meet at a shared pin for basecamp number one. If we circle the vans where the prairie meets the mountains, we would not be disappointed, Eric promised.
Our plan was to explore every piece of non-Wilderness trail we could find. Over the course of three days, we would tackle wild, lonely, rugged singletrack with nary a foot or hoof print. Trails in this area start steep and get steeper, and only after many hours of grinding can you attain passes and cols connecting parallel drainages. These cols, seated between limestone reefs, extend north and south for miles before being interrupted by headwater tributaries of the Mighty Missouri. It is at these high points where perspective is gained. Feelings of wonder take over as the valley floor drops in sweeping, ocean-like waves of intermixed limestone faces, perfectly framing a blanket of emerald-green forest. The ruthless nature of the climbs means this area will always be self-regulated. These are not manicured trails found in stacked-loop bike-optimized areas. The trails here are unmolested, free, and relentless. The taste of blood in your lungs signals that you're close to the top and the view is worth the hell paid to get there. Short of basic maintenance like a few cut trees, we saw no sign of anyone on the trails but the resident bears.
"The ruthless nature of the climbs means this area will always be self-regulated. These are not manicured trails found in stacked-loop bike-optimized areas. The trails here are unmolested, free, and relentless."
On the first night, we had planned to meet in the evening so we could be ready to kick the riding off with an O-dark-30 start the following morning. Not surprisingly I rolled in last after trying to squeeze in an extra lap before making the three-hour drive from Missoula. I was guided into camp by a dim campfire peeking out from across the river and could barely make out the silhouette of jagged ridgelines and cliffy peaks in the moonlight. Going to bed that night I felt like a kid waiting for Christmas morning. As a former professional cross-country racer and Olympian, I'm well-acquainted with pre-ride jitters, but there's something about forays into the backcountry that make the imagination run wild.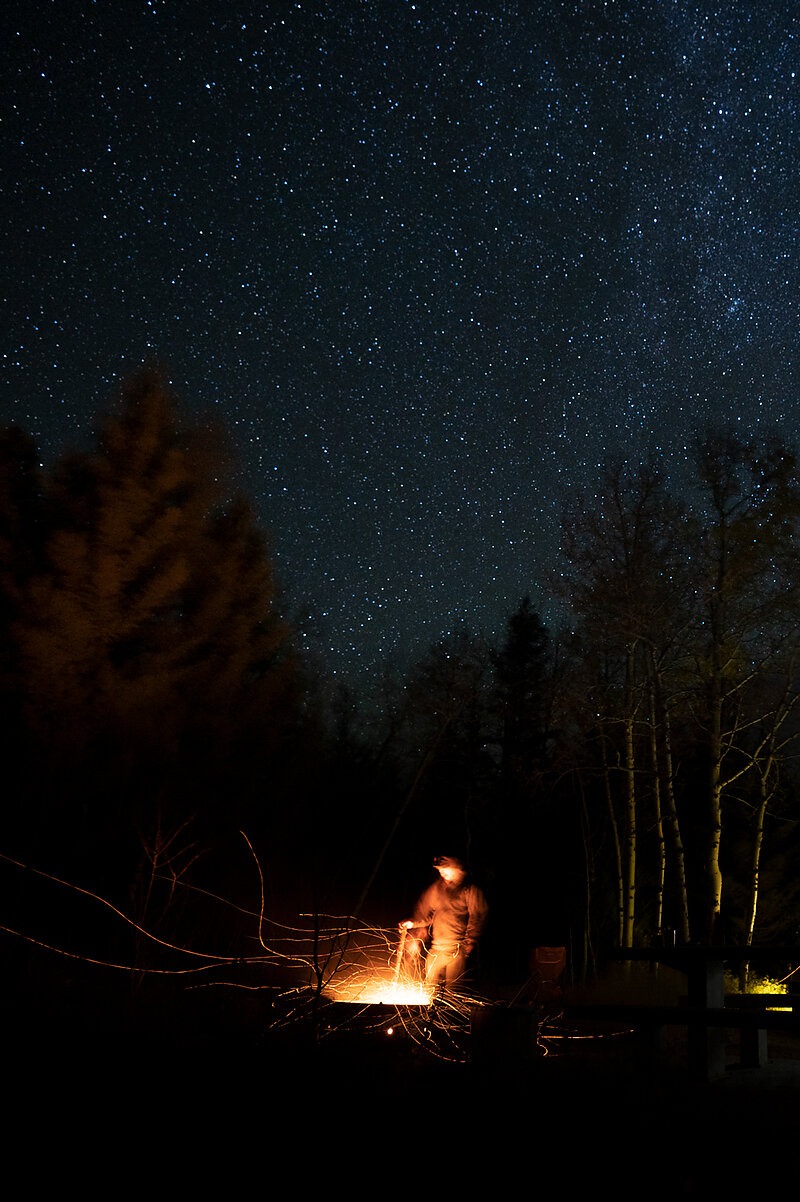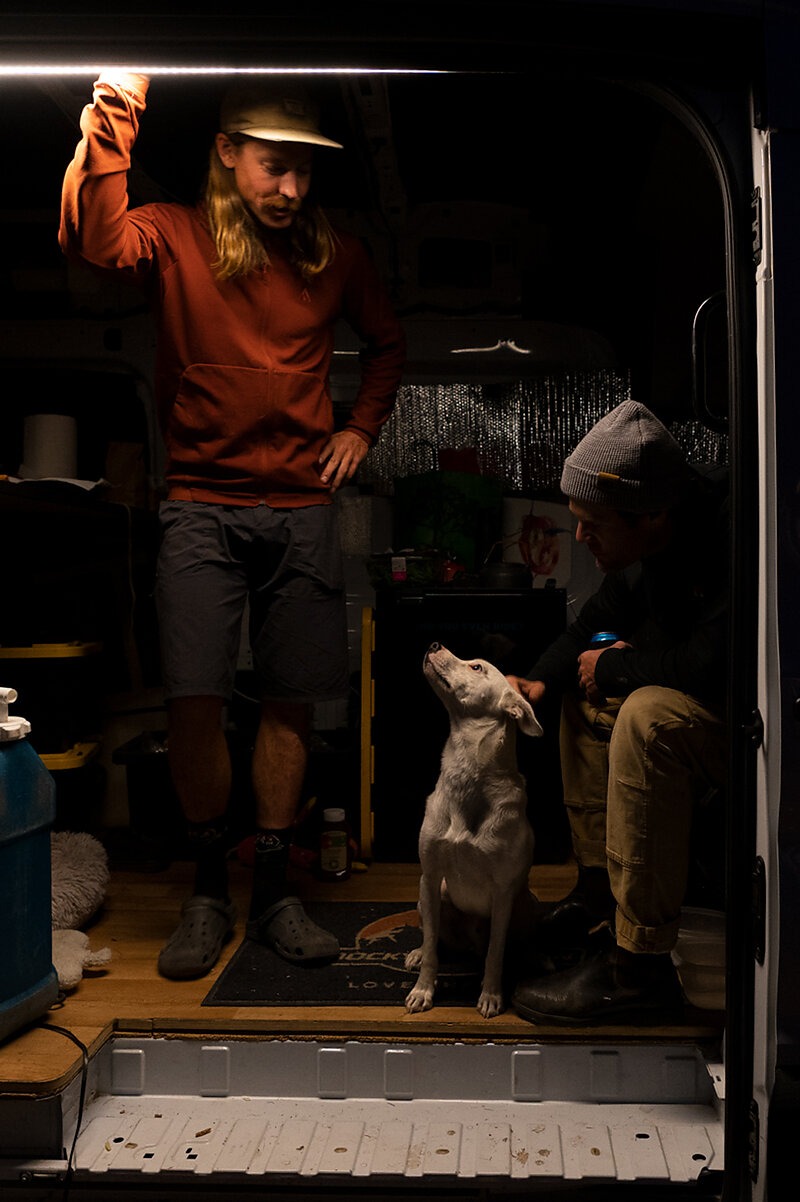 I was up before my alarm, the excitement of the day getting the best of my ability to sleep. With a little extra time to prepare, I pulled my hobo heater (my dog, Pancho) close for one last dose of warmth before braving the crisp autumn air. I made a quick cup of coffee, and we started up the trail by the light of our headlamps. The only sound was tires on cold trail, my heavy breathing and one of us yelling out 'HEY BEAR!' every so often. Late fall riding through the dark in grizzly country keeps you on your toes.
Right out of the gate, I was dragging my tongue trying to keep up with Eric's not-so-friendly pre-dawn pace. "What gives?" I thought. Not far up the trail, I came to understand the fervor in which he was pedaling as the sky brightened in perfect sync with our climb out of the coulee. We continued climbing as the surrounding cliffs lit up in the most brilliant shades of pink and red. Stopping for a sunrise snack, we soaked in the views before pointing back down the rowdy trail we had just ascended.
After cooking breakfast back at the van, we set off for our second ride location of the day, another pristine trail following a blue-green creek flanked by huge limestone peaks. The birch trees held onto the last of their golden leaves and the deep colorful pools made it hard to keep our eyes on the ribbon of singletrack ahead. Bobbing and weaving through paradise with two good friends, equally at home in this rugged landscape, I couldn't imagine a better way to kick off the trip.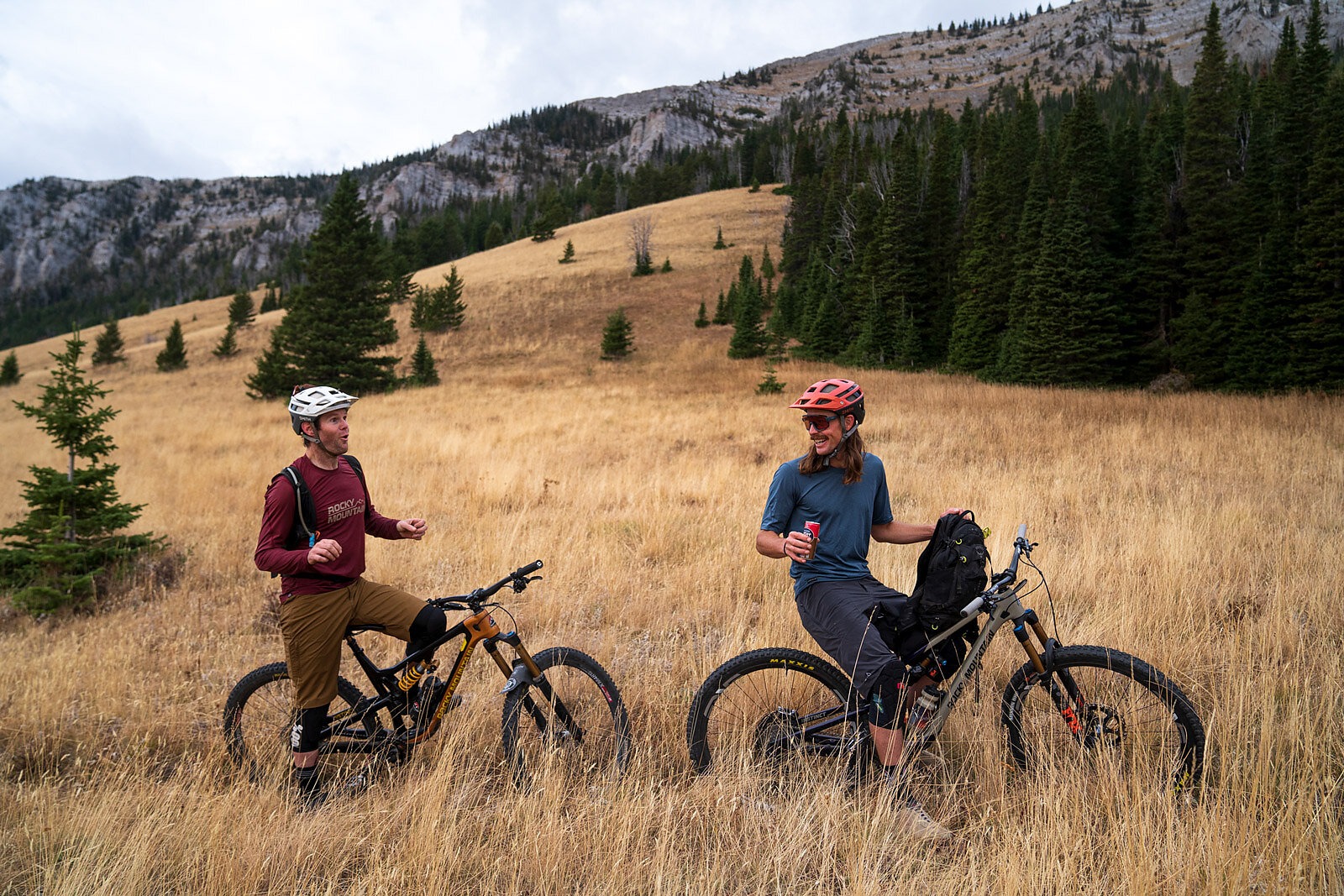 After thoroughly exploring zone one, we picked up camp and moved to our second location. Simply getting to our second camp was one of the more harrowing parts of this entire mission–I've never been so gripped on a highway drive from high winds on what was otherwise a nice sunny day, but there I was, my van listing against the gale like a sailboat. Countersteering at an awkward angle as the unrelenting wind approached insanity, I wondered aloud just how well I had attached my rooftop solar panels through grit teeth. Turning the van west, directly into the oncoming wind, was a relief and the closer we got to another limestone canyon the more the turbulence subsided. Further we drove, into the unknown wrinkles of our maps, past the abrupt fault line where the plains turn dramatically into pale chalk-like peaks. Swirling and dazed from our battle against the invisible eddy of currents, we pulled into our new home for the next two nights.
Even Eric didn't have the playbook for this new area, but I was set on at least putting eyes on the trails here. I had zero expectations as we geared up for the upcoming day's ride, figuring it would probably be a battle to stay warm and stay on the bike. The number of horse packing and Wilderness dude ranch operations we passed had me convinced that every square inch of singletrack would be covered in horse manure and be hoof-hammered. The main trailhead had three or four trucks all with long horse trailers in tow. It was hunting season deep in the backcountry of 'The Bob' and these guys looked like they were in for the long haul.
Eric shook his head at the wind, already planning his reasons for bailing. His excuse: some sob story about having to leave for a Steelhead fishing trip in Oregon. Marc and I soldiered on.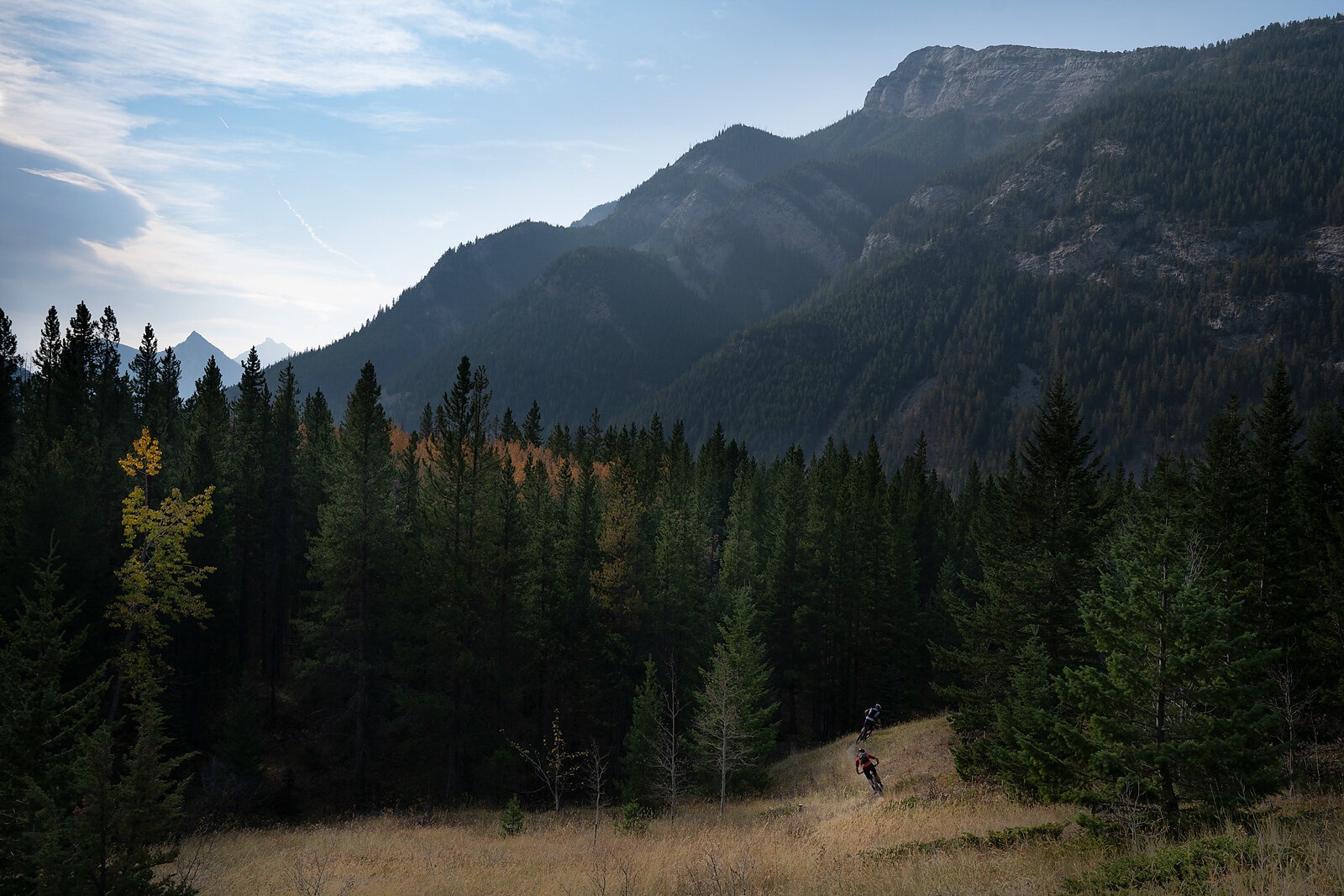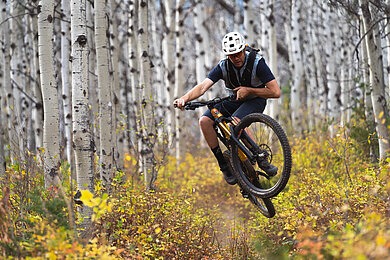 All we had to go on was primitive information, including some bad GPS data that had mileage way off. I could see what trails were open to bikes, but there were no notes about routes or trail descriptions–nothing even mildly useful for navigating. At this point, we had moved on to plan B or C. Trails from the main trailhead looked totally shitty (literally), but the hiking trail we started on around the bend was great. "This ride just might work out after all," I thought. After about 100 yards a large sign with a bike overlaid with a red circle and a slash dashed our hopes of going that way. Time for plan C, or is it D? As luck would have it, we only had to ride the horse poop trail for a few more moments before we saw our last hope: a ribbon of hardly used, true singletrack.
Up, up, up, it went. The forest floor was a thick mat of pine needle duff. Cutting between the wise timbers and winding our way up and around giant boulders, we followed a sinuous corridor with signs of tree blazes etched every so often by axes of times long gone. The trail, ebbing and flowing along at its own leisure, continued on and up, seemingly endless in its ascent.
We had been climbing steadily for well over an hour when we finally reached the pass and got our first views into the next drainage. The wind died down and the views were stunning, but it was cold. From this vantage point we could see the route north, but the high peaks to the west obscured the view of any approaching storm. It was decision time. If we dropped off the pass into the next drainage, we would be committing to the full lollipop loop. The plunge would put us closer to the Wilderness boundary with no easy way back to the truck. If things went sideways weather-wise or the trail wasn't rideable, it would be a grunt of a ride, or hike, back out. The map was truly wrinkled at this point with no way to know what lay beyond without simply going for it. Marc and I hesitated as we mulled over our options–peering into the vast and unknown drainage below. Ultimately, our thirst for adventure prevailed and we decided to drop in.
Before starting our descent, we noticed that the storm looked as if it was going to pass to the south of us. Yes, it was cold and windy, but there were blue skies where we were headed. Montana is known as Big Sky Country but here in the mountains, just a few ridges in from the great plains, we only had what seemed like a sliver of sky as the mountains to our west continued to grow bigger with each rise. We had the place to ourselves.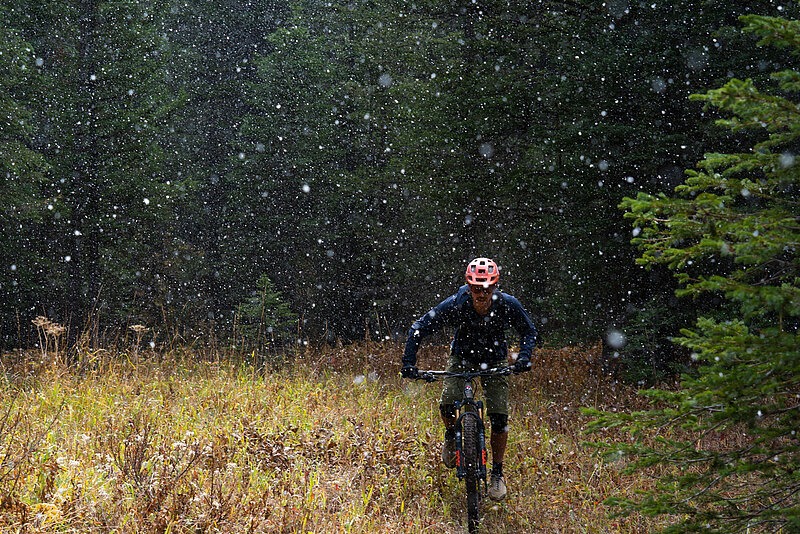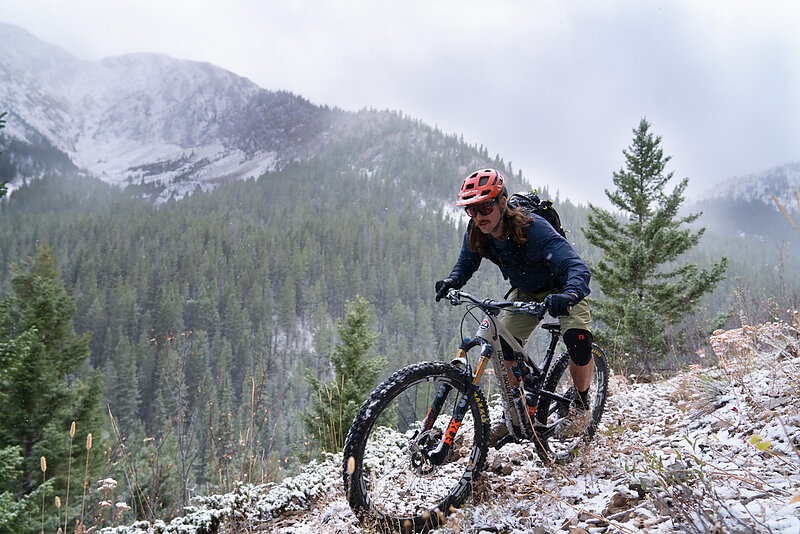 After a quick survey of gear in our packs to check for layers, extra gloves, and enough food, we set off. It was mid-October and most of the bushes had already lost their leaves. Visibility of the trail ahead was not a problem. This was adventure riding at its best. I love trying to find the speed and flow on a wild backcountry trail and after a couple miles of ripping fun we were fully committed. The sun came out as we stopped to shed layers, refuel and bask in the warmth. Looking at the map again I started to think we might be able to do an extra out and back to the far ridge. After all, we were feeling great. But then, just like that it, it began to snow. We still had a few more miles of climbing before the trail would loop around and head back towards the van– no time to dilly-dally. The flakes were fat and thick and soon the forest was completely white, the trail totally covered, yet still tacky and rideable. Luckily, this big storm decided to get it over with quickly as it rolled east and out onto the plains. The trail now flowed mostly downhill through open scree fields before dipping into a forest of mixed conifer stands of old growth Douglas fir, Engelmann spruce, and some lodgepole, each gently christened with lichens, mosses, and strands of hanging old man's beard. The trail opened into lush meadows with elk tracks everywhere. Relieved at our narrow escape from a more severe bout with the weather, visions of drinking beers back at the van started to come into focus. We realized quickly though that our deteriorated map hid a harsher truth: another huge climb lay ahead. We slogged on a bit longer, but in the end, it worked. We closed the loop and stood back in the same place we had been just a few hours earlier. Elated, we knew the trail was all downhill back to the vans and that we would even make it back before dark.
I woke up the next morning to fresh snow, hot coffee and stunning views. It was hard not to think about just how nice it is when those crumples on the map smooth out like magic in the end. Tracing the dotted line of trails with my finger I started planning next year's trip. Hopefully, the trails in the next canyon to the south will unlock their hidden treasures like the ones on this adventure did. I'll only know for sure if I go and see for myself.