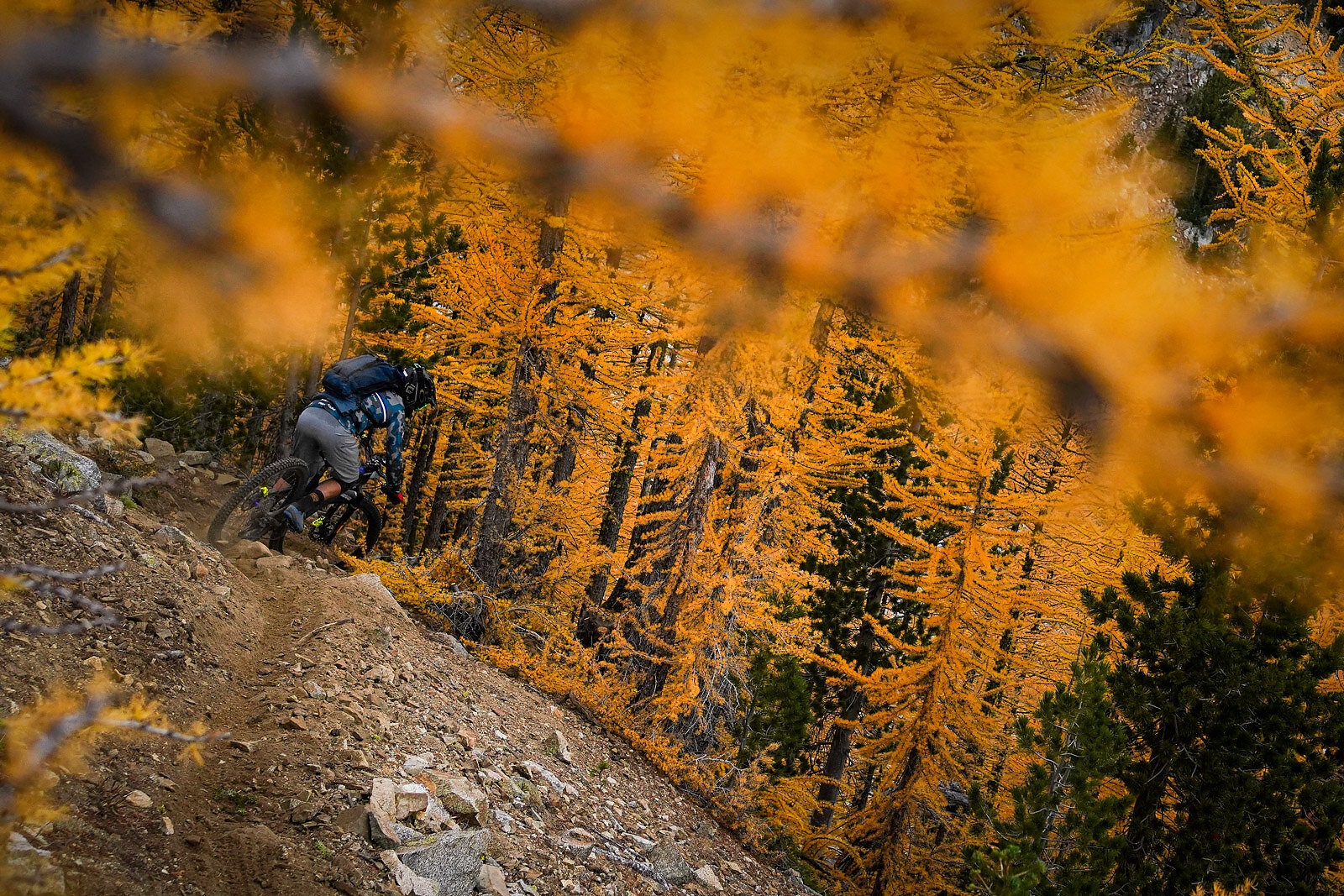 Uncharted Territory After a One Season Hiatus, Trans-Cascadia Continues its Backcountry March
The day Cody Olsen bumped into Paul Willard from the U.S. Forest Service stands out clearly in his memory.
Olsen was 23 years old at the time and spent most of his free hours exploring the arid, mountainous terrain around his hometown of Chelan, Washington, at the far eastern end of Lake Chelan—a 50-mile-long sliver of deep water in a remote region of the Cascade Range. As a young mountain biker, he wasn't always satisfied with his local trails and sometimes took liberties with a shovel when he saw the chance to add some flair to his favorite routes.
Willard, a veteran of the Forest Service since 1991 who now works as the Recreation Program Manager for the Chelan Ranger District, had a long list of maintenance needs and was eager to recruit help. And while he never accused Olsen of anything when they met, he made it clear to him that building jumps on established singletrack wasn't what the area needed if it were to grow its recreational offerings.
"We both knew that the person building the side hits was me," Olsen said. Within a few weeks he was working shoulder to shoulder with Willard to build new trail at Echo Ridge. "It was my introduction to professional trailbuilding."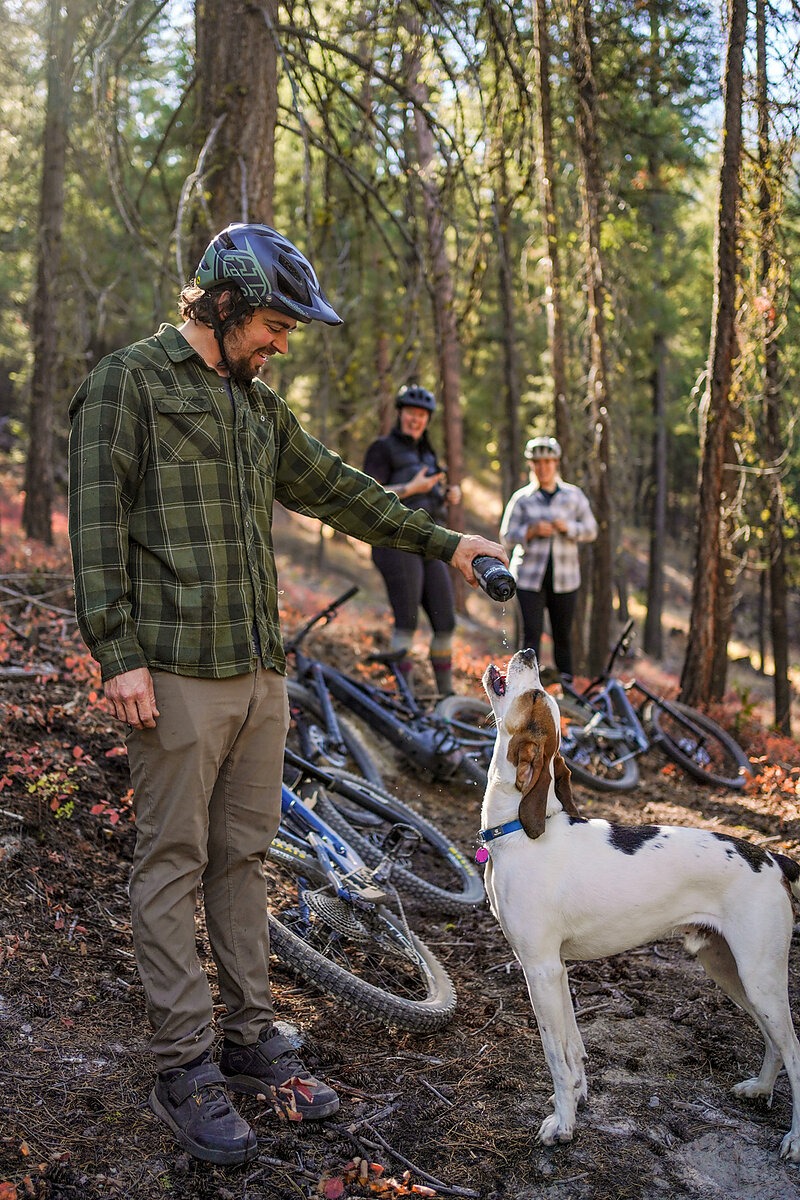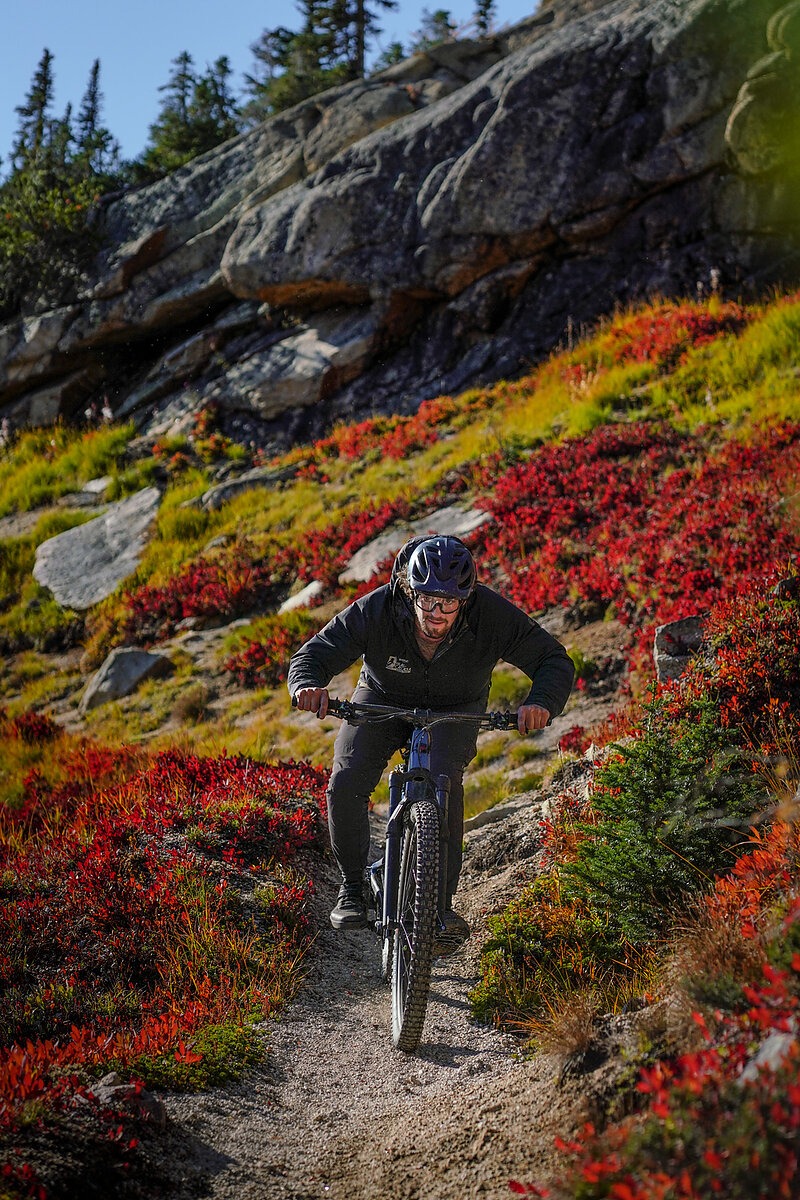 Olsen's career has revolved around trailwork ever since. Most recently, his expertise, along with that of fellow builder Remy Aucoin, was called upon to prepare trails for the sixth edition of Trans-Cascadia, a blind-format event in which participants spend four days racing timed sections of hefty routes through seldom-ridden terrain. Though it often garners the most attention for its annual race, the meat of Trans-Cascadia's work lies in the nonprofit's mission to reclaim vast stretches of overgrown and neglected singletrack in remote regions throughout the Pacific Northwest.
On Saturday, September 21, 2021, Willard dropped by the Foggy Dew Campground near Carlton, Washington, picked up a microphone and thanked a raucous ensemble of nearly 200 Trans-Cascadia racers, volunteers and staff gathered around a 10-foot-tall bonfire. The group was celebrating their third day out on the trail—a day race director Nick Gibson described the evening prior as "likely the hardest 11-mile ride you'll ever do."
After a lengthy shuttle, racers careened through golden-yellow larches on Bryan Butte before following the contours of Middle Fork Ridge to lower elevations. Gibson's words rang true. Most of the 3,500 total feet of elevation gain was hike-a-bike and all 6,600 feet of descending required laser focus to remain inbounds on narrow tread. Willard's gratitude around the fire for the hard work completed by Trans-Cascadia felt especially poignant to Olsen. Just shy of a decade had passed since their first encounter on trail.
"It was completely full-circle," Olsen said. "To work on trails that I've either ridden or wanted to ride my whole life, and then being able to find a partnership to get all that done is a dream come true."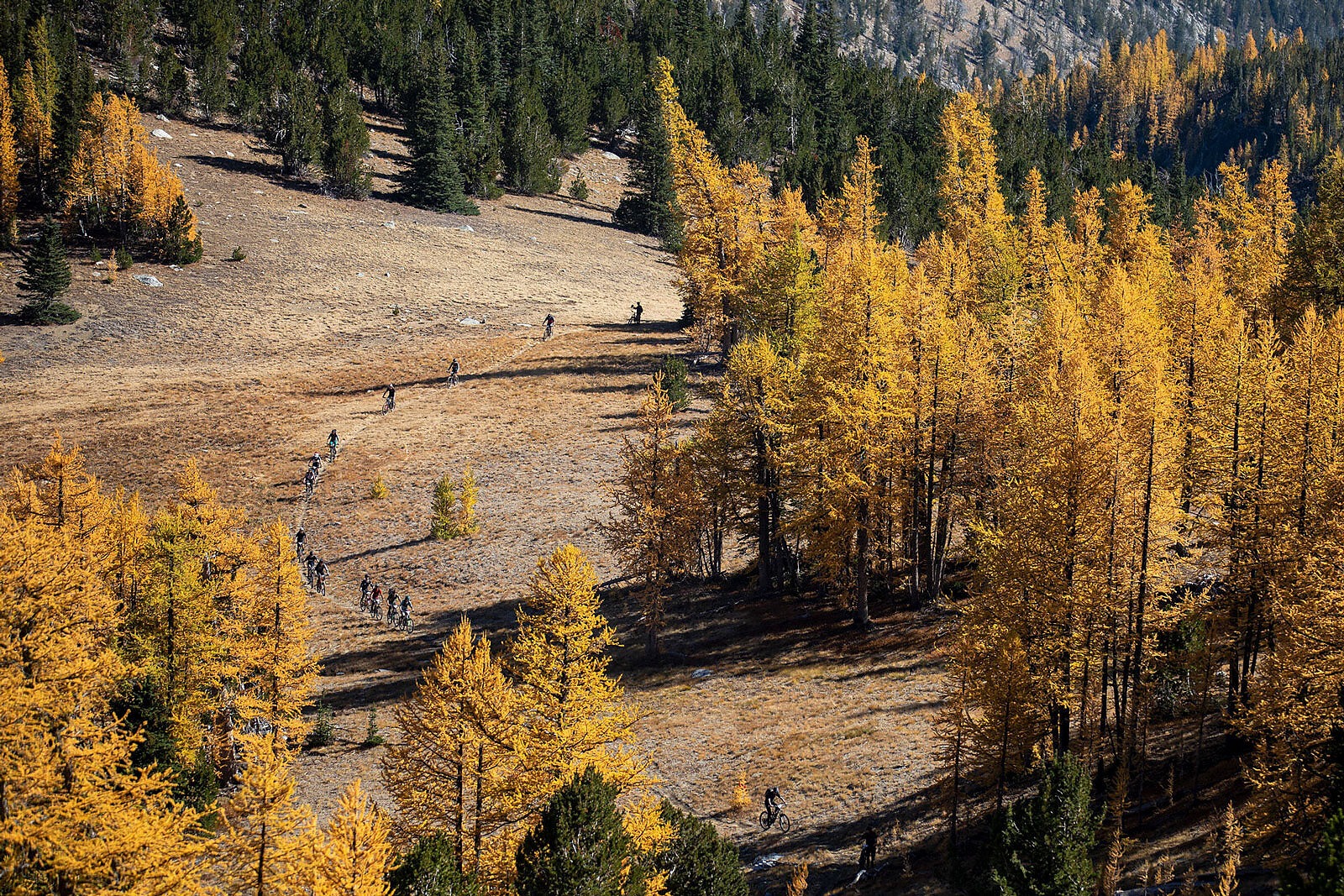 That Trans-Cascadia happened at all in 2021 is a testament to its strong partnership with the Forest Service in the Chelan, Entiat and Methow Valley districts. Just days after Olsen and Aucoin hosted their third and final volunteer work party of the summer, forests on the south shore of Lake Chelan burst into flames. Soon the Twentyfive Mile fire (named after the creek that runs down the drainage) was wreaking havoc on the area that Trans-Cascadia had, in early planning, hoped to run the first two days of its race in and focused most of its volunteer effort toward. The extent of damage to trails and access roads in the Entiat region is still being determined, though, with time running out before race weekend, Gibson decided to change course and propose to the Forest Service that Trans-Cascadia instead host all four days in the Sawtooth backcountry. Willard knew how hard the group had been working on trails in his district and was happy to accommodate.
"This is the first time a land manager has gone above and beyond like that to make our event go," Gibson said. "Without them, it wouldn't have happened."
Aucoin and Olsen buckled down and prepared for a grueling block of work. They knew the Foggy Dew Campground would be basecamp for the race, but the routes, shuttles and timed stages were still mostly open to interpretation. Old maps showed sheep and cattle trails largely forgotten by modern recreationalists. Locals such as Joe Brown, owner of Methow Valley Cycle and Sport, also pitched in and provided valuable insight. Sarah Schmidt, Aucoin's partner and Trans-Cascadia's most steadfast volunteer, made the four-hour drive to Twisp from Seattle, where she works as a nurse at Seattle Children's Hospital, whenever her schedule allowed to help with scouting and trailwork.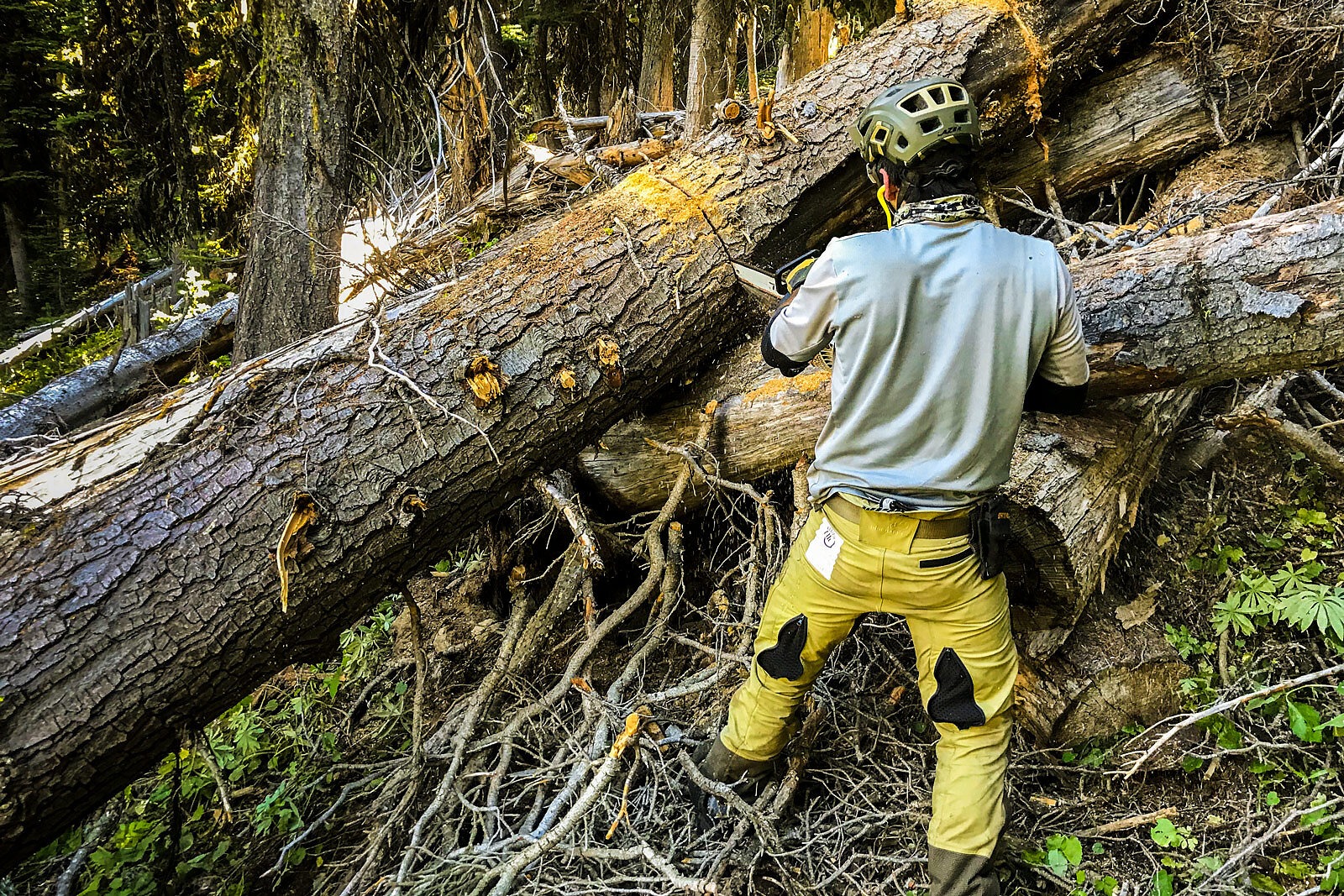 Little by little, the Sawtooth backcountry came into focus. On some days, the crew followed whiffs of trail well past dark. Uncovering hidden gems in the terrain boosted morale. A rare section of singletrack with moisture and tall Spruce overhead lifted spirits on one occasion; the discovery of a trail marker on a tree that read "1934" on another.
"Nothing is static about a wild environment," Aucoin said, reflecting on his summer of work. "The questions became, 'What trails do we use without repeating too much of the racecourse?' and 'How do we respect the other trail users who will also be there at a popular time of year?'"
Trans-Cascadia's standard of trailwork is remarkably high. Olsen and Aucoin's full-time work was funded by a grant from the Great American Outdoors Act, and, in the field, they move quickly, using a mix of traditional and electric-assist mountain bikes—and even dirt bikes where legal—to cover ground efficiently. With volunteers, the scope of work increases. Riding with heavy packs filled with chainsaws, brush cutters, hand tools and bar oil, groups of Trans-Cascadia volunteers often clear and tune up entire stretches of mountainous singletrack—from subalpine tree line to lush drainages thousands of feet below—in a single day's work.
"They bring a unique formula to getting work done, especially deep in the backcountry," Willard said. "Trans-Cascadia definitely represents close to the pinnacle of partnerships and brings such a high level of skill—they do really outstanding work."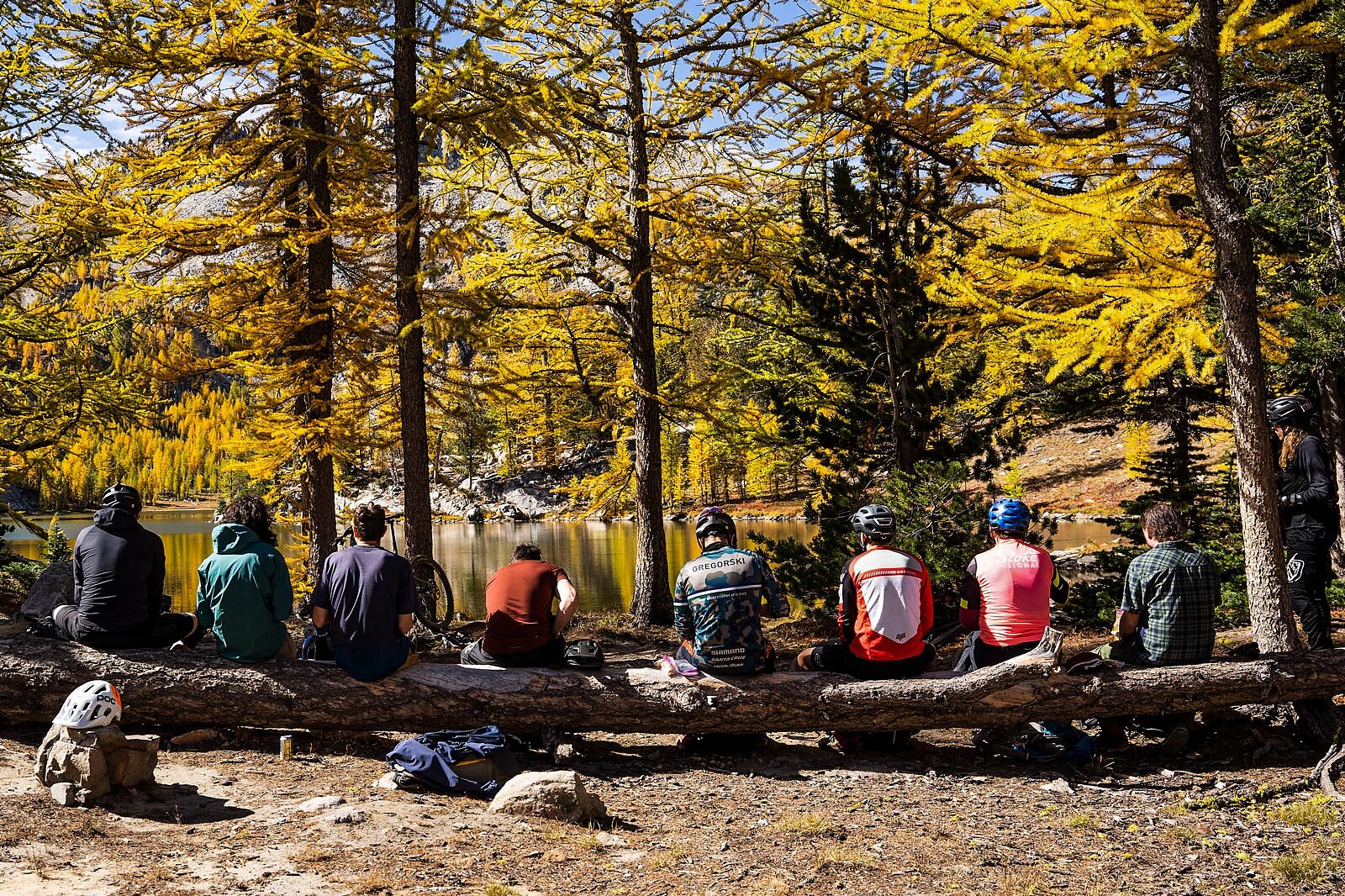 Caused in part by nearby burning wildfires and ever-shifting COVID-19 state regulations, Trans-Cascadia's 2021 trailwork came down to the wire. Early in the morning on day two, as racers inched up a long climb to an altitude of over 7,000 feet to Stage 3, Olsen, Aucoin and a handful of volunteers set out to clear one of the following day's stages. The group drove in trucks as far as they could on a dusty access road, then punched up and over a steep ridge to intersect Stage 8 and begin working downhill. Despite the crunch, everyone worked methodically to improve sight lines, cut back overgrowth and complete tread work where racers, or any other future trail user, could use extra support. One volunteer noticed a protruding chunk of rock obscured the view of a particularly awkward and high-speed left hook. Dropping his pack in the dirt, he spent a few minutes widening the narrow trail where it turned most sharply. The change was slight, but it was potentially a night-and-day improvement for a tired racer already fighting to see through dust and hang onto their handlebars near the bottom of an ear-popping plunge.
After four days and 12 timed downhill stages that accumulated to more than 25,000 feet of total descending, Jill Kintner and Myles Trainer emerged as winners in their respective Pro Women and Pro Men categories. For Kintner, entering Trans-Cascadia was a last-minute decision made while flying home from an Enduro World Series race held in Finale Ligure, Italy. Realizing she could still make it, she quickly repacked at home and arrived at the Foggy Dew Campground after dark on the eve of the first day. Less than 48 hours after landing in Seattle, she stood at the top of Angel's Staircase, a rock-strewn backcountry classic known as the highest elevation piece of bike-legal singletrack in Washington at a touch above 8,000 feet.
"You're not riding 100 percent because you don't know what's coming and so I tried to keep my eyes up as much as possible," Kintner said regarding the blind racing format of Trans-Cascadia. "Each day I thought the stages got progressively better. They know what good trails are."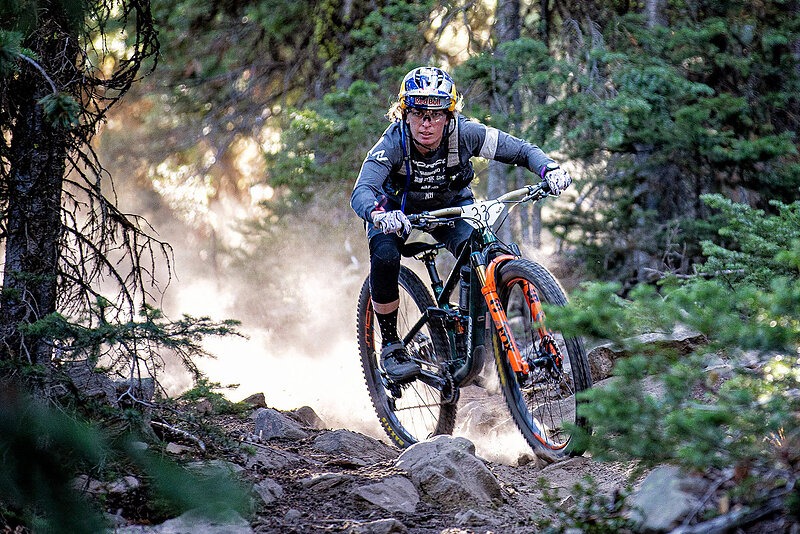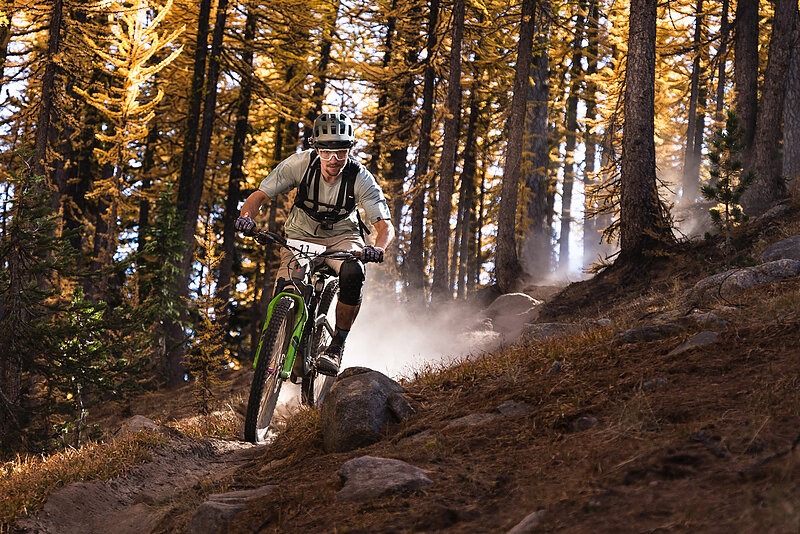 Ironically, Kintner's biggest mishap in four days occurred on Horsehead Pass, the only trail she'd ridden previously. After getting baited into an inside line, she went down hard and jammed her hand against a rock. By the time she rolled into camp, her thumb was too weak to shift. That evening the Trans-Cascadia massage team worked to remedy the pain and stiffness, using K-tape for added relief. Kintner said she felt fine the next day.
Alex Gardner, Trans-Cascadia's race producer, called Kintner to the top step of the podium each evening around the campfire. The 25-time U.S. National Champion and former BMX Olympian's lead grew continuously throughout the race and, as the champagne flew on Sunday night, equated to a 10-minute faster time than her nearest competitor, Corinne Prevot.
The men's race was much tighter. Geoff Kabush, who won Trans-Cascadia in 2016 and 2017, started fast and donned the orange-and-blue-camo leader's jersey with two days remaining. An over-the-bars crash on day three cost him time, however, and young guns Myles Trainer and Myles Morgan chipped away at his lead. Morgan held a narrow margin going into the final day of racing, but lost time moments after dropping into the first stage of the day when he washed out on a loose right-hand corner. Jumping to his feet, Morgan fumbled for a few valuable seconds to straighten his crooked stem before continuing down narrow bench-cut carved into the steep slope of a scree field. By day's end Trainer was on top, besting Morgan by a scant eight seconds overall.
Trainer said he "had issues the first couple days" but then slowly gained a feel for the late-summer moondust strewn in heavy doses over the Sawtooth. He shifted his weight back further than normal to float through the soft ground, a style he learned during his time living in California. Each day his riding grew more consistent as he began to trust the unseen trails ahead.
"It was crazy coming through some of those sections and just being like, 'Holy crap this is so wide,'" Trainer said. "I really noticed it on the third day—the sight lines were amazing."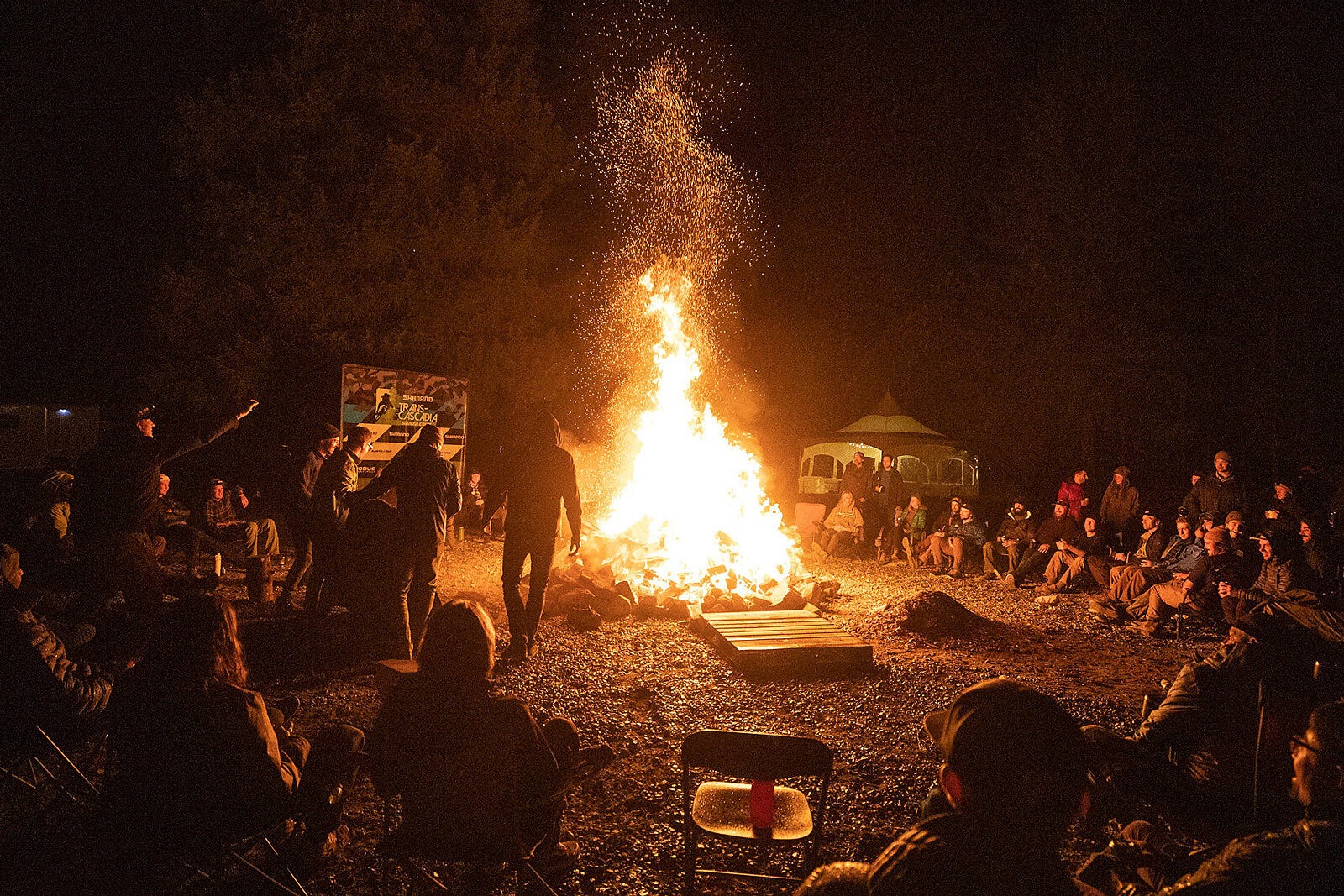 Not all racers at Trans-Cascadia are seeking pure speed. For some, the event's draw lies in the adventure and sheer challenge of it. On one evening between cornhole tosses, a rider from Connecticut mentioned he'd never ridden a trail with more than a few hundred feet of descending until coming to the race. The final stage of Trans-Cascadia 2021, on its own, dropped 4,000 feet.
"Our whole goal is to keep the race fresh every year," said Gibson, who before having to cancel the event in 2020 due to the pandemic had previously run Trans-Cascadia in Oakridge, Oregon and the Gifford Pinchot National Forest in southern Washington.
After finishing his work for the summer, Olsen continues to spend time exploring the Sawtooth backcountry. With his hound Hank in tow, he's taking advantage of the freshly cleared trails before winter sets in. Working deep in the backcountry reaffirmed his love for riding singletrack originally created for different purposes than mountain biking.
At its core, this is perhaps Trans-Cascadia's most salient offering. Riders attend with the expectation of being wowed by breathtaking views, exceptional food and warm conversations each night around the fire. But they also come to scare themselves just a little bit and to be reminded that mountain biking is sometimes best experienced without tidy berms, curated flow and the knowledge of what's coming next.
"You're not going to ride a purpose-built mountain bike trail that's almost 100 years old," Olsen said. "When the routing works out and you can link together corners and it's fun to ride, it's like there was a time-traveling mountain biker that was a sheep herder. It's bizarre, it just works."
---
For more on Trans-Cascadia check out the film "Hard Days".
For more on Trans-Cascadia check out the film series Common Ground.
Read more about Trans-Cascadia.
---