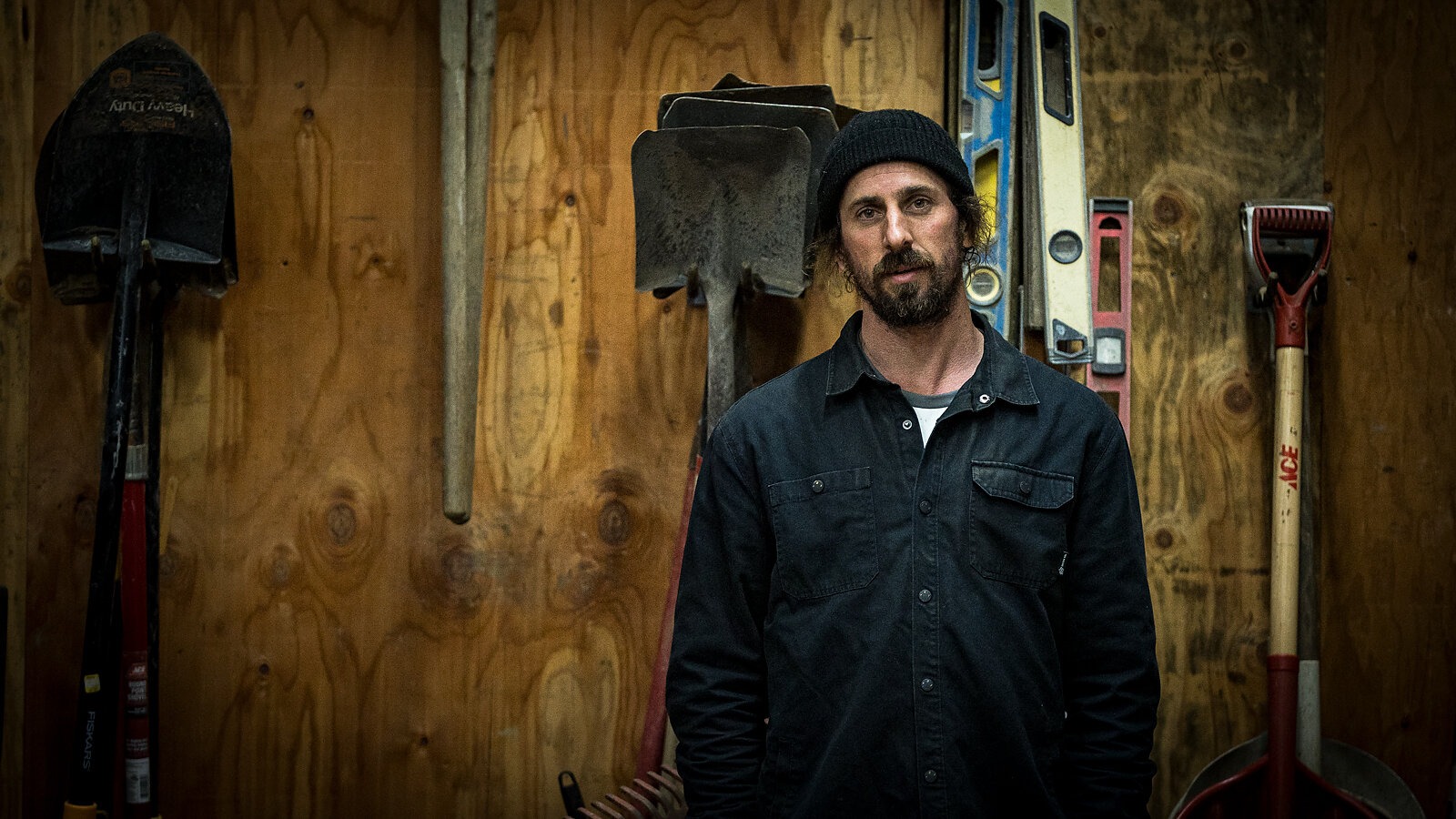 When Worlds Collide Christian Rigal Rides On His Own Terms
On Christian Rigal's last visit to his hometown skatepark, he left early because a parent called the cops on him. It wasn't the first time it had happened, and it likely won't be the last, but it bothered him nonetheless. When he pointed out that the kid's scooter wasn't technically allowed there either, the seething dad responded, "Well, you're too old to be here."
It was Christmas Day, 2021, hardly a day to be upset, Rigal thought as he made his way home. And, after all, since when did having fun have an age limit? If anyone knows how fulfilling it can be to make a career out of a passion, it's Rigal. At 33 years old, he has already enjoyed a decade-long career as a professional BMX rider and filmmaker. His skill on either side of a camera has contributed to renowned BMX videos, several video part of the year awards, multiple X Games Real Street medals, and rightfully earned him a reputation as one of the hardest working dudes in action sports.
A few years ago, after being introduced to the world of mountain biking by eminent pro, Brandon Semenuk, Rigal altered his outlook on bikes. His newfound viewpoint changed the trajectory of his career and created a niche within the sport where his unique, outsider perspective could shine through and challenge what people thought possible on fat tires. He's the first to acknowledge that good fortune and a whole hell of a lot of hard work made this dream a reality, but that's what makes it so rewarding.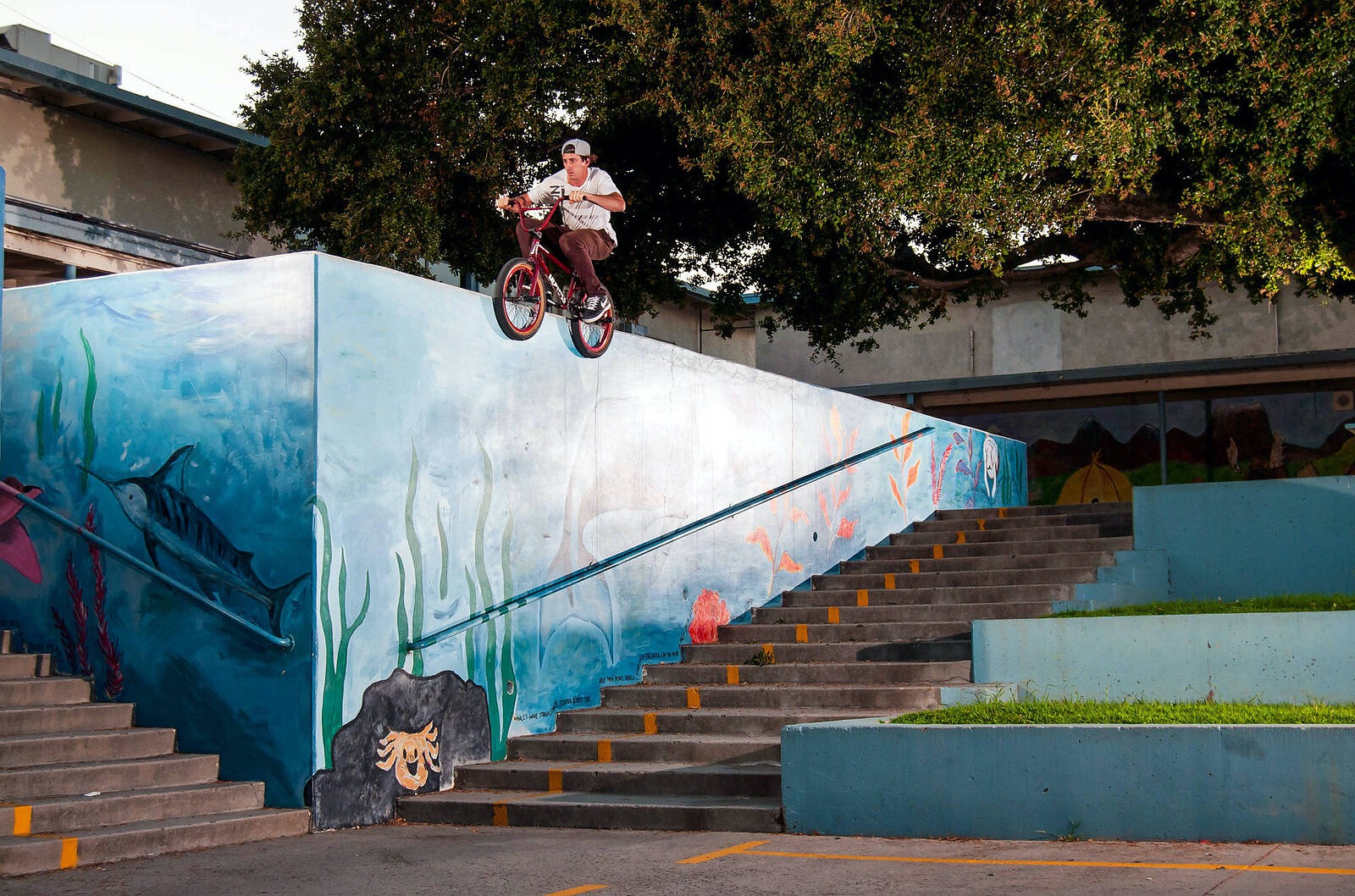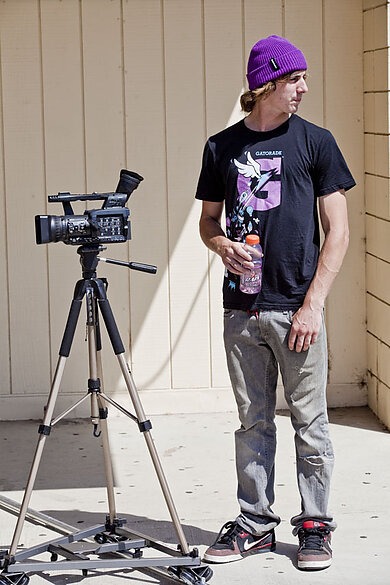 Born and raised in Moraga, California, about 25 minutes east and across the water from San Francisco, Rigal, like many teenagers in the mid-aughts, grew up watching and worshipping the X Games. The action sports craze of the late '90s inspired his early days on rollerblades, but in third grade, he threw a leg over a Mosh BMX bike and never looked back.
"After that first bike, I definitely knew that riding bikes was what I wanted to do," Rigal says. "I realized that's what I liked the most. I could do it on my own terms: dress how I want, ride how I want, ride when I want, ride wherever I want. I just liked that freedom of it."
Rigal's waning enthusiasm for basketball games and soccer practices was quickly replaced by exploring local neighborhood spots and riding off picnic tables in the schoolyard. It was during one of many afterschool sessions where he met Connor Lodes, a kid equally stoked on BMX who also turned pro. The two have been lifelong friends ever since and were roommates up until 2021.
Despite Moraga being a relatively small suburban town—only two stoplights and two cops at the time—there were a handful of kids in Rigal's circle who loved bikes. Together, the crew evolved from hitting backyard jumps to sessioning dirt jumps, which eventually led to cruising around town hunting for ledges, banks and other street features. A skatepark was built in Moraga when Rigal was in seventh grade but trying to ride there was another story.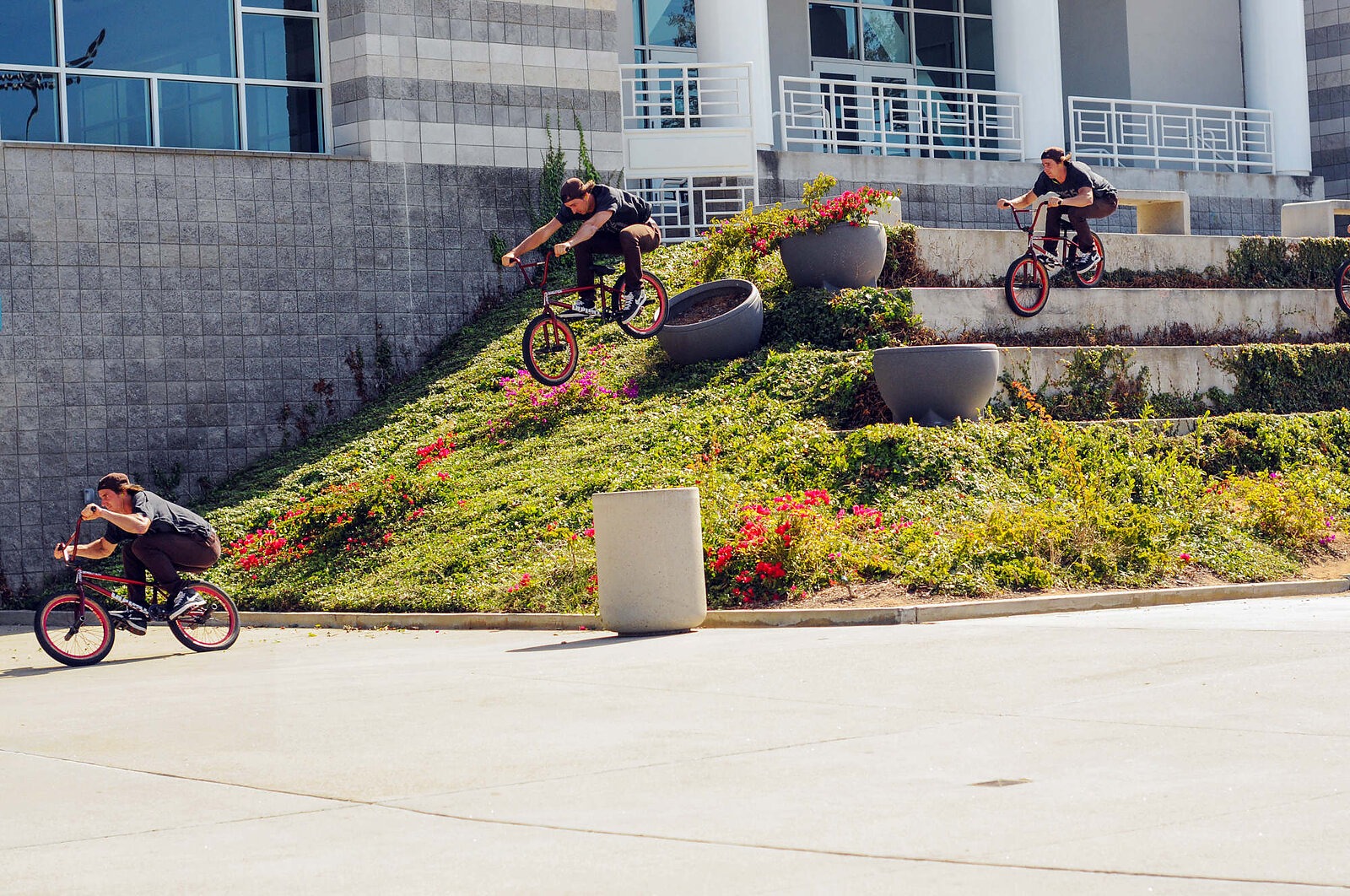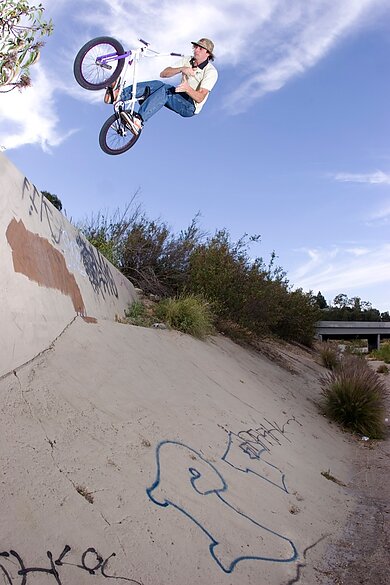 "Back then, you couldn't really ride bikes [at a skatepark] without getting hassled," Rigal says. "In California, there weren't really any parks where it was welcome. The cops in my town were so gnarly. They'd stake [the skatepark] out and chase us, and we'd have to plan our escape routes. I love where I grew up, but they didn't make it easy for us as kids."
By the time Rigal graduated high school, he was fully committed to riding bikes. After a year of working at Lamorinda Pizza and padding his savings account, he moved to San Diego in early 2008. That fall, he enrolled at Grossmont Community College but only really attended out of an obligation to his parents. San Diego had perfect weather, endless riding spots and like-minded friends living the same BMX dream. One of those people was Dennis Enarson, now one of the best BMX riders in the world.
While Rigal had filmed his friends growing up by making Jackass-style short videos of their riding, his camera skills stepped up a level when he and Enarson went in together on a Sony VX2000 and a fisheye lens. They rode together daily and filmed everything. They'd stack clips for weeks and then send a box of tapes to Mark Losey, then editor of Vital BMX, who would splice it all together and post it on the site. Eventually, Rigal started editing their footage himself and was soon hired to film Chad Kerley for Vital BMX.
When a psychology test conflicted with the opportunity to join a Demolition trip to Reno, Nevada, as both a filmer and rider, the choice was obvious. Rigal tried to take the test ahead of time to no avail. Riding alongside Enarson, Jason Enns, Ryan "Biz" Jordan, Dave Osato and Dave Dillewaard—all BMX legends—was a dream come true, as was getting paid to film the trip.
"If [the teacher] would've been cool and said, 'Oh yeah, for sure,' I would have tried to make it work," Rigal says. "But the second that happened, I just realized, 'OK, this might be harder than I thought to try and ride and film and go to school too.' Within a day or two, I quit school, dropped everything and just sent it."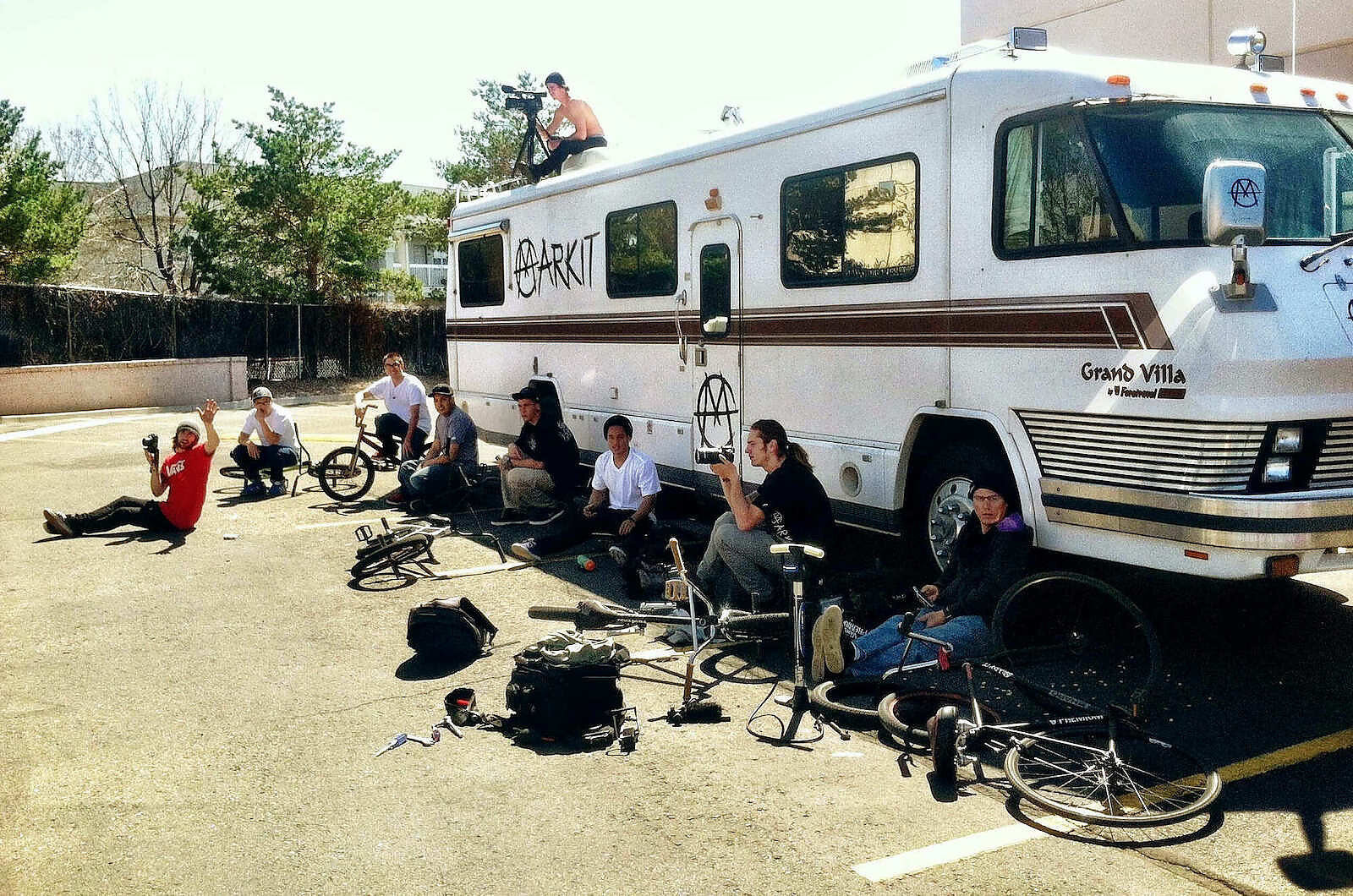 The ensuing decade was a whirlwind of traveling the world, riding alongside his best friends and producing a plethora of edits and videos documenting progression within the sport of BMX. In 2012, Enarson launched Markit BMX, a new denim company, assembled an all-star team of friends, bought a 36-foot, shag-carpeted RV and toured the United States. Rigal filmed and edited the entire journey. The resulting 2014 full-length "Markit Zero" video still stands as one of the most classic and influential BMX movies from that time.
"His role [Rigal] was definitely the hardest working role in the whole crew [at Markit] because he was filming everybody and making his own video part," Enarson says. "He'd film four or five crazy clips in a row, then set all the lights and camera up for himself, tell us what he thought the best angle was and then do something super savage on his bike. He was putting in the most work, the longest hours, the longest days, and then would have to go back and edit."
In 2017, Rigal joined forces with Kerley for X Games' Real BMX and won silver and then bronze in both 2018 (along with being voted fan favorite that year) and 2019 while teamed up with Brad Simms. For a kid who began riding because of the X Games, a mantle with three medals feels surreal. His commercial clients also began to stack up, including Red Bull and Adidas, but also Royal Enfield motorcycles and Pixar. All the while, Rigal was still riding professionally for United Bike Co. and putting out his own BMX parts. While continually improving his film chops was an exciting challenge and enjoyable creative outlet, pushing himself on his bike became less enjoyable—and scarier.
"I burned myself out on BMX the way that I was filming and riding," Rigal says. "I love filming and riding, but I never really rode just for fun, just to ride. I was always just chasing the next clip. The camera was always recording."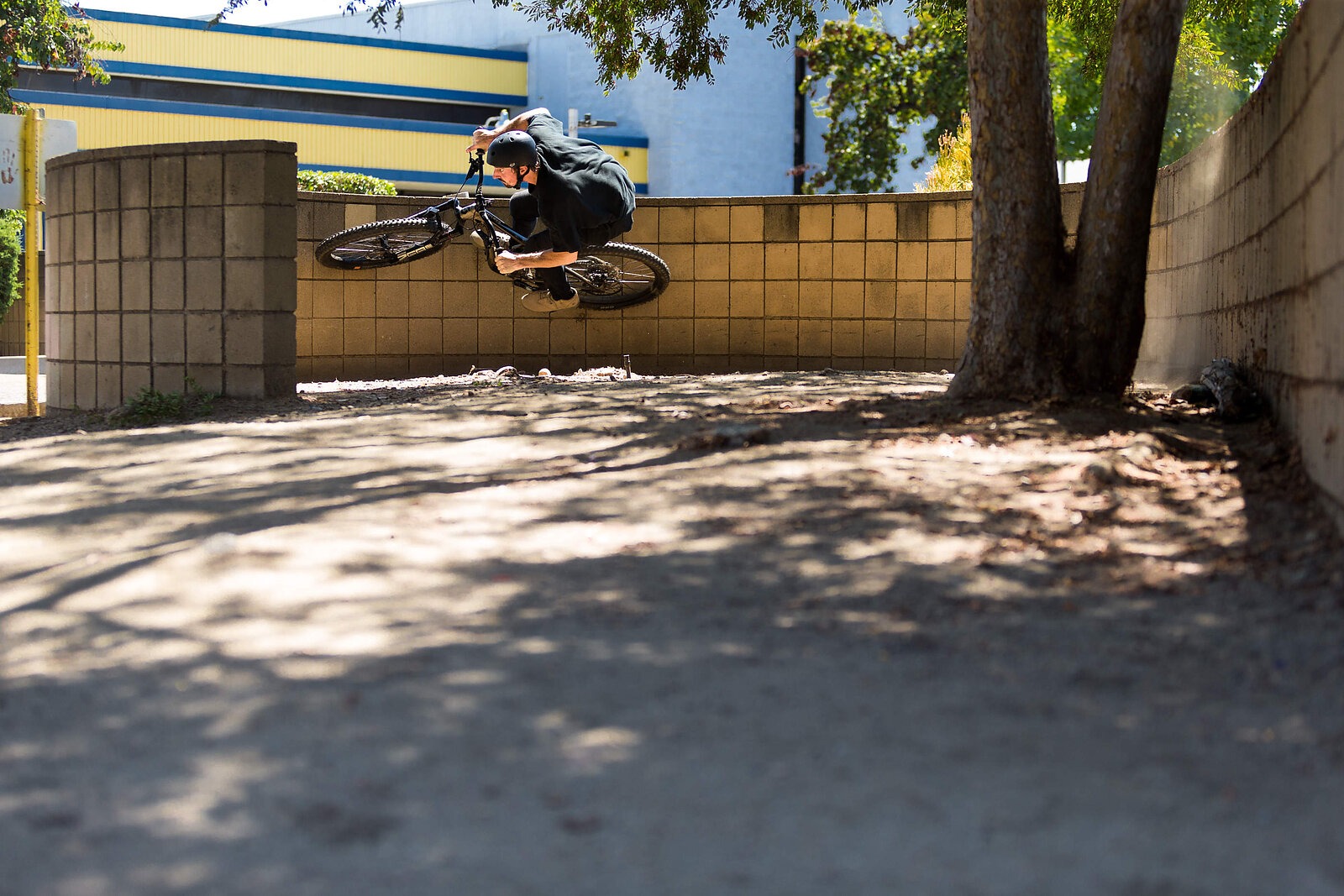 For a whole year, Rigal stayed behind the camera. Still deeply embedded in the BMX community, it was more enjoyable to just film than take on another video part that he knew would push his mind and body to the brink. A deep scroll through Rigal's Instagram provides insight; it was once filled entirely with photos and clips of 20-inch bikes, hopping fences, handrails and rooftop gaps, then squishy bikes and dirt jumps begin their ascendance in the feed starting around 2018. The first mountain bike clip is of Rigal, on a bike he borrowed from Nico Vink, riding the jumps at the Black Sage FEST Series stop. He's wearing a red Pro-Tec helmet and black jeans and sending a 50-foot jump off a moto ramp.
"When I found mountain biking, it revitalized my love [for bikes]," Rigal says. "As much as I was done being a pro BMX rider, in the sense of I didn't want to try to one-up myself anymore, or do anything bigger than I already had, I still had the same drive and passion and headspace in wanting to go out and make videos and be productive and travel. I just needed a change."
That change came in the form of an invitation from Semenuk. The duo had ridden BMX bikes together before, but on this occasion, Rigal was filming with Enarson and Nathan Williams in Northern California when Semenuk offered up two of his custom Trek Rampage bikes and a session on jumps built for his upcoming video project. Rigal remembers them sending downhill bikes on slopestyle jumps, sans helmets or pads.
Although the worlds of BMX and mountain biking might have two wheels in common, there are stark contrasts. Even the idea of different bikes (downhill, trail, slopestyle) for different riding styles was initially foreign to Rigal. He was in good company, though, with people like Semenuk, Ryan "R-Dog" Howard, Kyle "KJ" Jameson and a handful of other mountain bike pros showing him the ropes. After that session, Semenuk hooked him up with a deal on a Trek Remedy, and he began riding dirt every chance he got. Despite 20 years of bikes, an entirely new world was opening up for Rigal.
"He totally found a whole new path of biking that's totally fresh to him, and I think that's why he loves it so much," R-Dog says. "It's still new. He's still learning stuff all the time. He's real hyped on trail riding, he's super down to go dig, and he likes to put his own touch on things. When I follow him sometimes, I'm like, 'I never would've seen that line, or jumped that section.' He definitely has his own style of mountain biking, and I think a lot of that comes from his background of being a BMXer."
Next in Rigal's progression came a downhill bike and a road trip to Whistler for Crankworx. Party trains down Dirt Merchant with some of the sport's most notorious freeriders served as a quick introduction to another facet of mountain biking. At home, Rigal soon became the de facto caretaker of some dirt jumps near Pine Valley, California, 30 minutes from his house in San Diego. When he wasn't filming BMX, he'd be out riding and digging or scouting for potential new singletrack lines.
"The feeling I get from riding a mountain bike is the feeling I get for a couple seconds when I'm on a rail," Rigal says. "What I started to realize is it was the speed that I craved the most."
He often rode alone, which led to a few sketchy crashes. While San Diego might be the epicenter of Southern California BMX and have trails nearby, it isn't quite a mountain bike destination in its own right. None of his BMX friends had mountain bikes either, so Rigal found himself caught between two worlds—one he had mentally moved on from and one he was just barely entering.
This predicament was the impetus for "Redemption," an urban mountain bike edit Rigal put out in 2020 that seriously piqued interest in his unique style. He began riding for Scott and Fox Racing that same year, released an edit promoting Scott's Ransom trailbike and then debuted "By The Homies" online during the 2021 Summer X Games. The latter was more impressive urban riding, Rigal dreaming up tricks and features that many BMXers and mountain bikers have overlooked. As an ode to his BMX roots (beyond his authentic BMX style), he used the original Markit typeface for the title and credits.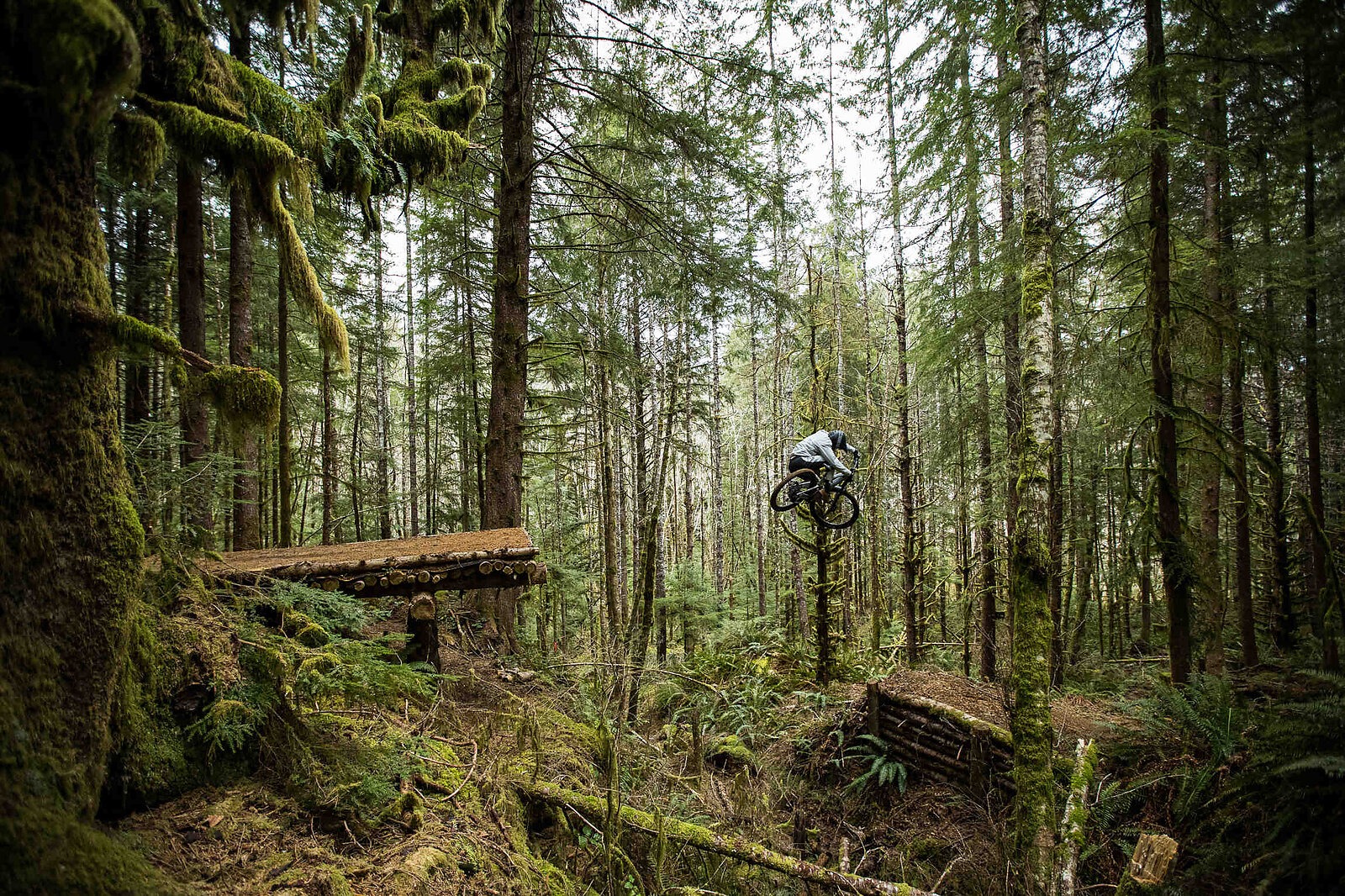 "What Christian loves is trail riding and freeriding and that kind of stuff, not so much the avenue of Crankworx [slopestyle]," Enarson says. "Christian is one of the first guys to really go from a street rider to the kind of mountain biking he's into—it's so different."
Rigal's filming career was also merging with the mountain bike world. Steadily, he gathered more mountain bike-oriented clients and sponsors, spending more time in front of the camera, less often in San Diego. In November 2021, he moved to Aptos, California, known for the now-gone-but-still-legendary Post Office jumps, not far from tons of trails in Santa Cruz and local hype man R-Dog, who's become one of his go-to ride buddies.
Later that same month, Rigal released "Crossover," a Five Ten short film featuring his own riding that he masterminded, produced, helped build and edited. It was a massive operation that took six months but showcased an unseen type of creativity, both on and off the bike. Included was a 12-foot logjam tree gap, a 90-degree gapped wallride, roof drops and a slatted quarter pipe that would have made Jordie Lunn proud. It's obvious within just a few minutes of watching: Only a BMXer-turned-mountain biker could possibly dream up such features. The project was a culmination of Rigal's many talents, a massive learning experience and just the beginning of what he wants to accomplish in the mountain bike sphere.
"When I get to do these projects now, I'm taking all the aspects of everything that I've loved and enjoyed over the years from both sides of the lens and combining them—it's unreal," Rigal says. "An insane amount of respect was gained—not that I didn't have it before—knowing what it takes and what it's like to, one, build and produce a project like that and, two, to be the rider and film a segment like that. It's the most stress I've ever put myself into for getting a clip or video because there are so many people involved."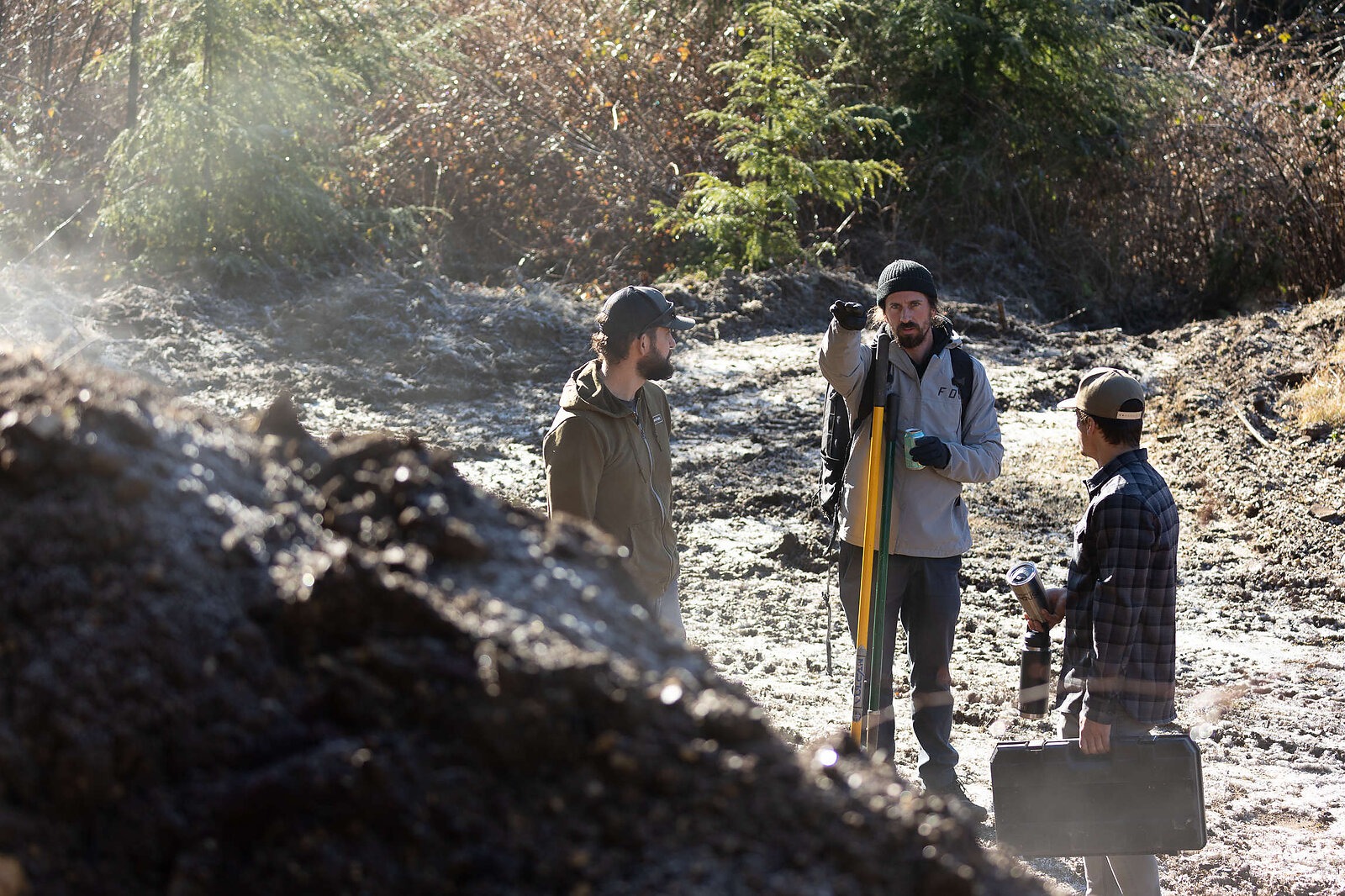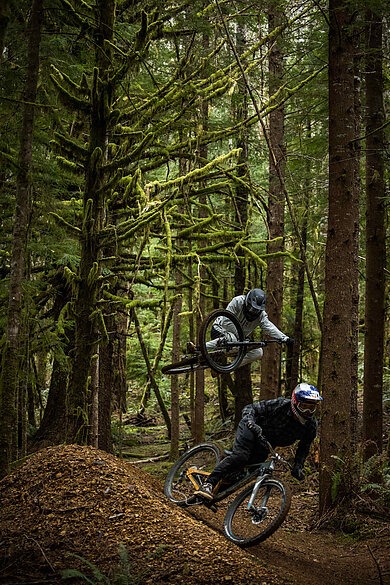 In early 2022, Rigal signed with Specialized, an exciting move for anyone interested in seeing more creative BMX-influenced mountain biking in the coming years. After riding only one bike for so long, Rigal's excited to continue exploring all the possibilities with mountain bikes. From footplants and half cabs on his trail bike, to big lines in the Virgin, Utah desert on the downhill rig, to hot laps and tossing dirt via e-bike, they're all seen as different tools for a talented and stylish craftsman.
The most rewarding feeling for Rigal, though, is sharing the exhilaration. Thanks to his hard work, he's at a place where he can do just that. Knowing what it's like to go from being a pro on a fully ridged, 20-inch bike and asphalt to a noob on a full suspension bike sending dirt jumps, he can grasp the massive yet nuanced differences between the features, the bikes and the cultures—something very few people can. And he knows there's nothing like that first feeling of riding a mountain bike.
"I love doing the same thing for my BMX friends," Rigal says. "I've got bikes for them now, I've got e-bikes, I've got places to take them, it's a full-circle thing where I get to give them that experience that me and Dennis got when we first went [mountain biking]. Because I know how insane and fun that was, I get to share it with my friends, and it's the sickest thing ever."